Visitor and Parking Information
The Art Department is comprised of a wide range of studio areas, in 3 basic locations within 2 major buildings on campus.
The Fine Arts Building is home to the Art Department office (Room 107 on the first floor), the Fine Arts Gallery, faculty offices, and over 7 studio areas within the Art Program. Located in the University Center, across from the food court "breezeway," you will find four additional art studios and faculty offices.The University Center (South) houses Interior Design, Computer Graphics & Design, Art History and several faculty offices as well.
The Fine Arts Building is located at the corner of Brookwood Drive and Oak Street. The University Center is located on Patterson Street between Brookwood Drive and Ann Street. Parking is available in the Oak Street Parking Deck, the surface lots in front of the University Center and the surface lot between Toombs Street and Jane Street, behind Martin Hall - College of Nursing building. A parking permit is required.
To obtain a parking permit please visit the Parking and Transportation Office.
Parking Office Location: Sustella Avenue Parking Deck, 1st Level - (Behind the Student Rec Center)
Baytree Road to campus, turn right at stop light to Sustella, then turn right into the Student Rec Center parking lot.
 Operating Hours: Monday – Thursday 8:00am – 5:30pm • Friday 8:00am – 3:00pm.
Phone: 229-293-7275 or 229-333-5961
Fax: 229-245-4343 
Web Links: Campus Maps, Parking Maps, Directions to VSU, Downloads, etc.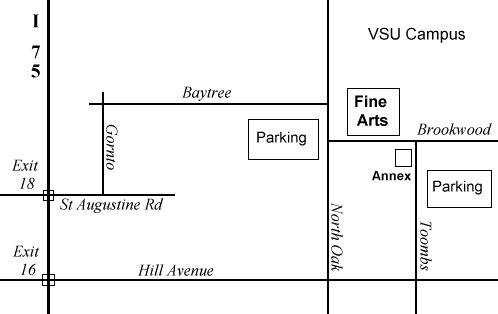 Maps are simplified and are not to scale