Art & Design News
ART & DESIGN
Faculty Exhibition
Reception: Monday, August 20, 6pm-7:30pm
Gallery Hours: Monday-Thursday: 8:30am-5:30pm, Friday: 8:30am-3pm
Contact: Julie Bowland, Gallery Director, 229.333.5835, jabowlan@valdosta.edu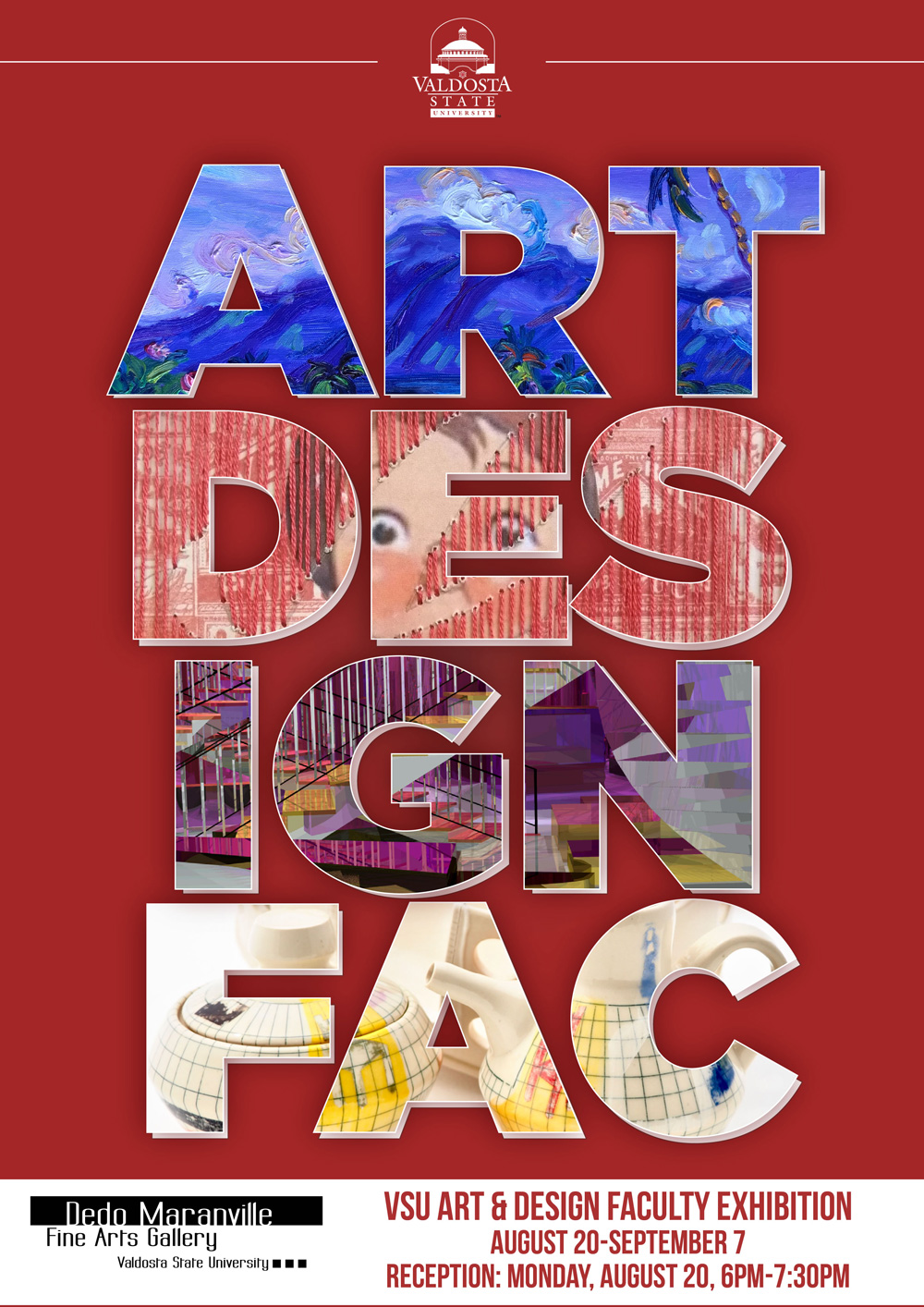 ---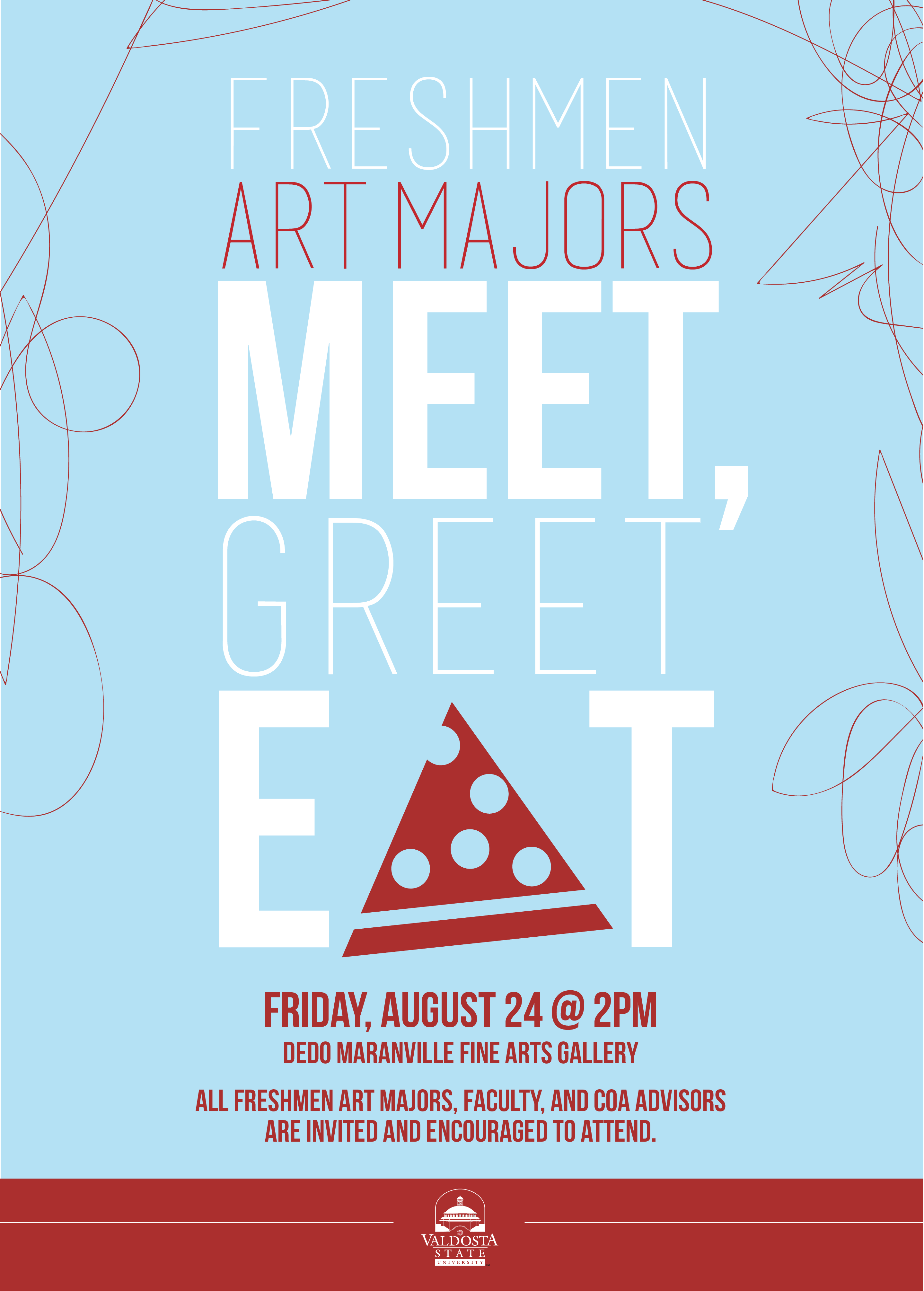 ---
---
VISITING ARTIST

Santoleri leaves his mark

In Spring 2018, award-winning Philadelphia artist Paul Santoleri transformed the Dedo Maranville Fine Arts Gallery into a giant drawing installation. The exhibition ran from February 12-March 2. In addition to his artist talk, Mr. Santoleri installed a permanent mural in the north stairwell of the VSU Fine Arts building. Come check it out! For more about Paul Santoleri and his work visit paulsantoleri.com.
---
COLLABORATE AND CELEBRATE ALL THINGS VSU
ColorATL inspires ColorVSU

           
Volume 1 of ColorVSU - Available Now!
Our concept is simple; ColorVSU – An Adult/Artist Coloring Book designed by students, current and emeritus faculty, and alumni. The earnings from ColorVSU support scholarships within the Department of Art & Design, which provides financial assistance to students within the BA/BFA programs in Art, Art Education, and Interior Design. Your support is an enduring gift that positively affects our students, and immeasurably changes individual lives.
ColorVSU is a platform for our community to intimately connect with artists while personally experiencing the benefits of creative activity. Each page was created by an artist at VSU or connected with VSU. 
Inspired by William Massey, 2012 VSU Alumni - William founded ColorATL, "a platform for the community of Atlanta to intimately connect with local art while experiencing the benefits of creative activity.  Volume 1 of ColorATL Coloring Book features 45 of Atlanta's best artists- experience the joy and stress relief of creativity while personally connecting with an epic variety of local art."
More information about ColorVSU >
Or contact Michael Schmidt at 229-333-5832, email at mschmidt@valdosta.edu
---
Dedo Maranville Fine Arts Gallery

 

2018-19 Fine Arts Gallery Exhibition Schedule
---
Advising Information & Registration Questions? 

Make an appointment to see an academic advisor today!

Advising takes place each semester around mid-term: 
October (for Spring term) and March (for Summer & Fall terms).
---
Valdosta State University is an accredited institutional member of the
National Association of Schools of Art and Design (NASAD).
Learn more at the official NASAD web-site.  |  NASAD Handbook >
229.259.5121
Campus Address
VSU - College of the Arts
Department of Art & Design
Fine Arts Building
Room 1070A - 1st Floor
Valdosta, GA 31698
Mailing Address
1500 N. Patterson St.
Valdosta, GA 31698
Monday-Thursday
8:00 a.m. - 5:30 p.m.
Friday
8:00 a.m. - 3:00 p.m.