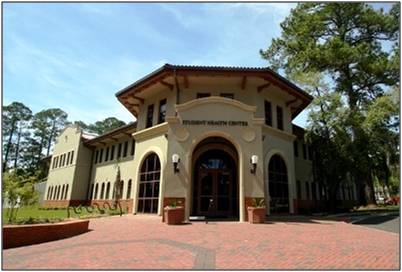 Welcome to VSU Health Services
The Student Health Center is a department within the Division of Student Affairs.  Services are available to all currently enrolled full-time students who are taking four or more semester hours and who have paid the health fee.
Our governing body, the Board of Regents requires proof of immunizations for Measles, Mumps, and Rubella (MMR); Tetanus-Diptheria Pertussis; Hepatitis B; and Varicella before students are allowed to register for and attend classes. Therefore, it is necessary for all students to complete a medical history and a Certificate of Immunizations . The questionnaire and proof of immunization form are supplied by the Admissions Office with other materials to be filled out and returned to that Office.  
Important
WORLD AIDS DAY: "Behind the Masks: Telling the Truth and Creating Healing:

December 1, 2014 in the Student Union Ballroom A-B from 11:30AM - 1:30 with guest speaker Jim Sacco, M.S.W

Medical Records Request

- If you have a "hold" on your student account due to an outstanding balance, we will not be able to honor your request until the fee has been satisfied
VSU Student ID required
Outside lab requests are not accepted
Outside prescription requests are not accepted
Appointments
Appointments are needed to see a Doctor or Nurse Practitioner
Their schedules tend to fill up fast (especially on Fridays!)
Call or schedule your appointment online to reserve your time. (229) 219-3200
If you need to cancel an appointment please call at least 5 hours prior to your scheduled time.  There is a "No-Show" policy.  If you call after hours to cancel your appointment for the next day, please call 229-219-3200 and leave a voicemail.
Cancellations can also be made via the online appointment system.  
 Date/Time 

Event

Organization 

Location

 12/2

8AM - 10AM

Staff Meeting/Training

Closed  

Student Health
Student Health

 11/20

2:30PM - 3:30PM

Free Urine Chlamydia & Gonorrhea Testing

Must have a valid VSU ID

Student Health
Student Health

11/26 - 11/28

Thanksgiving Holiday

University Closed

Student Health
Student Health

12/1/14

11:30AM-1:30PM

World Aids Day

Guest speaker & free lunch, you must register to attend the luncheon. To register click here

VSU & South Health District
Student Union Ball Room A-B

12/1/14

9:30AM - 11:30AM

Worlds Aids Day

FREE HIV TESTING

VSU & South Health District
Student Union Ball Room C

12/12/14

Last day for scheduled appointments

Student Health
Student Health

10AM - 2PM

*doors lock at 1:30PM

Saturday Dates for Fall 2014

8/23, 9/6, 9/13, 9/20, 9/27, 10/4, 10/11, 10/18, 11/1, 11/8, 11/15, & 12/6

Limited labs and no x-rays - routine care should be scheduled during the week

Student Health
Student Health
Does the Student Health Center Provide Excuses for Class?
The Health Center provides each student with a statement and/or copy of their appointment history.  However, it is up to your instructor to accept the statement and/or a copy of your appointment history.  If a student has missed classes due to illness and wishes to medically withdraw then verification is needed.  The student may sign a HIPAA form for a release of a copy of their medical record.
(All students living on campus will be required to complete this form)
Student Health Services are provided for currently enrolled full-time students.
VSU Student ID card required!