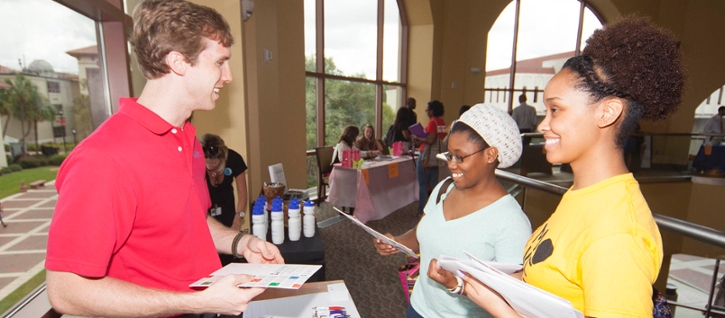 Part-time JOBS Program
Welcome to the Blazer Online Job Board for the Part-time Jobs Program!
Here you will find information on how to register and participate in the off campus, part-time jobs program, sponsored by the Career Opportunities office. We have recently made major changes to the program in order to make it more convenient for you to view jobs and apply for them. The entire program is now ONLINE for your convenience, and you may access advertised job listings using College Central Network (CCN). Please review the following information on getting started.
ORIENTATION
All students who have not completed a part-time jobs program orientation course in BlazeVIEW must do so. The orientation is approximately 30 minutes in length followed by a brief quiz. Through the orientation course, you will learn tips on dressing professionally, submitting your application, and interviewing for jobs. 
PLEASE NOTE: Email careerops@valdosta.edu and request to be added to the BlazeVIEW orientation course. After completing the orientation quiz, students will be allowed to review the complete listings with employer information in CCN. 
CCN REGISTRATION
After you complete the orientation course, you will need to register for College Central Network (CCN). Career Ops uses CCN to list all varieties of job opportunities including part-time, full time, internship, and co-op. You will be able to indicate what type of job you are seeking (part-time) and filter job announcements in CCN. 
PLEASE NOTE: Review the Student Registration instructions for completing your CCN registration. Students seeking part-time jobs must indicate "part-time" ONLY when asked what type of work they are seeking during the registration process.
You DO NOT need to upload a resume, but may do so if you have one (*resumes are subject to approval and may be returned to you for revising at the site administrator's discretion). Employers will not be able to access your resume through CCN, so it is advisable to apply directly to the employer following all provided application instructions. 
APPROVAL/JOB SEARCH
Once you submit your CCN registration, the site administrator will notify you of your approval within two (2) business days. You will be able to view all jobs posted in CCN for VSU students, and you may filter your search results for part-time jobs only. 
If you have any questions, contact the Career Opportunities office at (229) 333-5942.
DISCLAIMER
Jobs are listed as a service to VSU Students. Valdosta State University and Career Opportunities do not represent or endorse any specific employer or opportunity. It is the individual responsibility of the student applying to an advertised position to investigate and verify the specific requirements, duties, salary, schedule, and environment of each position of interest. Career Opportunities does not guarantee that all jobs listed in College Central Network are still available. 
Career Opportunities reserves the right to deny an employer the opportunity to advertise job announcements in College Central Network if it is determined that the position is not in the best interest of the students. This job service is an equal opportunity institution and will not discriminate against anyone based on race, sex, religion, veteran status, handicap, age, or national origin.