Admissions
---
Admission Requirements
a baccalaureate degree from a regionally accredited college or university*

an official copy of all college/university transcripts, undergraduate and graduate

previous coursework in social science, human-services, or mental health related areas

a cumulative minimum undergraduate grade point average of 2.75

Graduate Record Exam (GRE) OR Millers Analogies Test (MAT) (GRE and MAT scores are valid for 5 years. You are welcome to send us an exam score taken within the past 5 years)

GRE: minimum score of 146 on the verbal section or 3.5 on the analytical writing section (Note: When you are ready to submit your GRE scores, the online departmental code that you need is 5855)

MAT: minimum score of 393
three references using the VSU Marriage and Family Therapy Recommendation form (required). In addition to the required Recommendation form, letters from recommenders are encouraged
an essay describing yourself, professional goals, and discussing your reasons for choosing the MFT field and VSU's MFT program.

a personal interview with an MFT faculty member
All MFT students must have a criminal background check that includes a sexual predator search. By the time you attend New Student Orientation, which usually occurs during the second week of August, you must be prepared to submit a copy of your background check to us. Here are the four easy steps necessary to accomplish a background check:
Go to your local city police station or in Valdosta, the Lowndes County Sheriff's office. In Valdosta, ask for a Purpose Code W background check. This particular form includes both a criminal and a sexual predator background search, both of which you must have. In a city other than Valdosta, just request the form that achieves both a criminal and a sexual predator background search.
Once this information is sent to you, write your 870 student ID number on the top right hand side of the form
Then make yourself a copy. Keep the original.
Bring the copy with you to New Student Orientation. During New Student Orientation, we will be collecting background check from you and we will send them to the COEHS Advising Center, where this information is stored.
Please note that personal information disclosed in admissions materials or during the admissions interview will be treated as confidential. Disclosures will be made only to other professional colleagues, administrators, or staff members who share responsibility for evaluating prospective students or maintaining student files.
*A note about preferred undergraduate majors: Prospective students often ask what major we prefer. We do not have a strong preference for one major over another; however, whether it is through coursework, volunteering, or life experience, we place a high value on applicants who have found ways of learning about what it is like to work in a social service career. Some students find their passion for helping people improve their lives and strengthen their relationships through coursework; others discover how rewarding a career in family therapy can be through life experiences. What is important to the admissions committee is that applicants have been thoughtful about the decision to become a family therapist, and that the goal of becoming a family therapist is grounded in accurate information about our field.
We have found that students with majors or minors in anthropology, sociology, child and family studies, psychology, child development, education, and communication are well prepared for graduate study in family therapy. While these are degrees most commonly held by our students, we have, however, admitted students with majors in general studies, liberal arts, and a variety of other undergraduate degrees. If you are wondering whether your undergraduate degree will serve as an appropriate springboard into MFT, we encourage you to contact the MFT Program Director, Dr. Martha Laughlin, and discuss your undergraduate coursework.
Valdosta State University is an equal opportunity education institution. It is not the intent of the institution to discriminate against any applicant for admission or any student or employee of the institution based on the sex, race, religion, color, national origin, disability, or sexual orientation of the individual. It is the intent of the institution to comply with the Civil Rights Act of 1964 and Subsequent Executive Orders as well as Title IX, Equal Pay Act of 1963, Vietnam Era Veterans Readjustment Assistance Act of 1974, Age Discrimination in Employment Act of 1967, and the Rehabilitation Act of 1973.
---
Talk to a Current MFT Student and Plan a Campus Visit
Many students who are looking for a graduate program find it helpful to talk to students currently enrolled in the program. The MFT faculty members think this is a great idea, and we encourage prospective students to talk to our students.
A good way to talk to a current MFT graduate student is to contact one of our MFT Graduate Assistants. We have two graduate assistants (GA), one a 1
st
 year; the other, a 2
nd
 year student. We suggest that prospective students talk to both in order to get a good sense of how current students are experiencing the many aspects of the program. If you want to talk to an MFT graduate assistant about the program, here are two ways you can do that:
Call FamilyWorks (our student-run family therapy clinic) at (229) 219-1281 between 9am and 11am, Monday through Friday. You will reach either a 1st or 2nd year graduate assistant during their morning intake hours. Ask for Cindy Urrutia, one of our excellent graduate assistants.
Email or call Cindy Urrutia at (229) 293-6302. If you email, be sure to include your phone number and mailing address so that she can both call and send you an information packet.
Probably the very best way to learn more about our program is to visit us! Our graduate assistants can help you to arrange a campus visit, which can include:
Sitting in on some MFT classes
Lunch or dinner with current students
Sitting in on a Clinical Practicum
Touring the community and the residential areas where students live.
Campus tours, including classrooms, the library, and recreational facilities
Tour of FamilyWorks, the program's family therapy clinic
If you prefer to look at written materials, we are glad to send you a program brochure and other written materials that describe the program and the field of family therapy. If you would like to receive an information packet, please send your request, including your mailing address to
Cindy Urrtia
.
Finally, the MFT faculty members are always glad to talk to prospective students who are considering a career in family therapy or who have questions about our program. Please feel free to call:
Clinic Director, Tabitha McCoy, LAMFT (229) 293-6266
Dr. Jennifer Lambert-Shute (229) 245-4323
Dr. Martha J. Laughlin (229) 249-4961
Dr. Samira Garcia (229) 333-7983
Dr. Hoa Nguyen (229) 333-6013
---
Application Process
The MFT program accepts applications all year long, and we review each application as soon as the application packet is complete. The deadline for submission of application materials--the last date we accept applications for a given year--is July 15. The program has usually filled all slots by April, May, or June of that year. After all openings are filled, accepted students are placed on a waiting list, or given the option to defer admission to the following year. We recommend that applications are submitted as early in the year as possible. Although the program admits students all year long, we only admit students for Fall entry. We do not start new students in the Spring or Summer.
The application process is as follows:
The applicant submits the required materials to the VSU Graduate School. Note: The departmental code to send your GRE scores to the Marriage and Family Therapy Program is 5855.    

When the application packet is complete, the Graduate School sends the application to the Marriage & Family Therapy (MFT) Department.

The MFT Faculty reviews the application and selects the applicants eligible to move on to the interview stage of the application process.

The selected MFT student candidate is contacted and an interview is scheduled.

The interview can take place by phone or on campus. Often applicants combine the campus interview with a day-long campus visit. 
After the applicant is contacted, the interview typically takes place within 5-10 days. When candidates are traveling from out of state, it often takes longer because travel arrangements must be made.
A face-to-face interview takes place with one or two faculty members. It is a time for the applicant to ask questions about the program and for the faculty to share information about the program requirements. In addition, applicants are asked to talk about a range of topics, including career goals, their approach to diversity – including how they anticipate helping clients who hold values and goals different than their own, their personal philosophy about embracing difference, how they define family, why they wish to become family therapists, how they feel they fit with the VSU family therapy program, and what they are looking for in their clinical training experience.
After the interview, the MFT faculty members convene and make a final decision about the applicant. MFT faculty members forward their recommendation to the Graduate Dean.
The Graduate Dean reviews the application and the MFT faculty recommendation and makes a final decision to accept or deny the application, then sends the applicant a letter informing him or her of the final decision. A copy of the Dean's letter is also sent to the MFT Program. 
When an applicant has been granted admission to the MFT program, the MFT Program Director sends the student a lengthy information letter welcoming him or her to the program. Among other things, the letter . . .
requests that the student send the MFT Program Director an email confirming 
requests that the student provide the MFT Program Director with contact information (email and phone)
provides the student with the name and contact information of his or her MFT faculty advisor
provides the student with a reading list that will help prepare him or her for graduate study in the MFT program
---
Application Timeline
The time it takes between submission of an application can vary substantially. However, we offer this general guideline: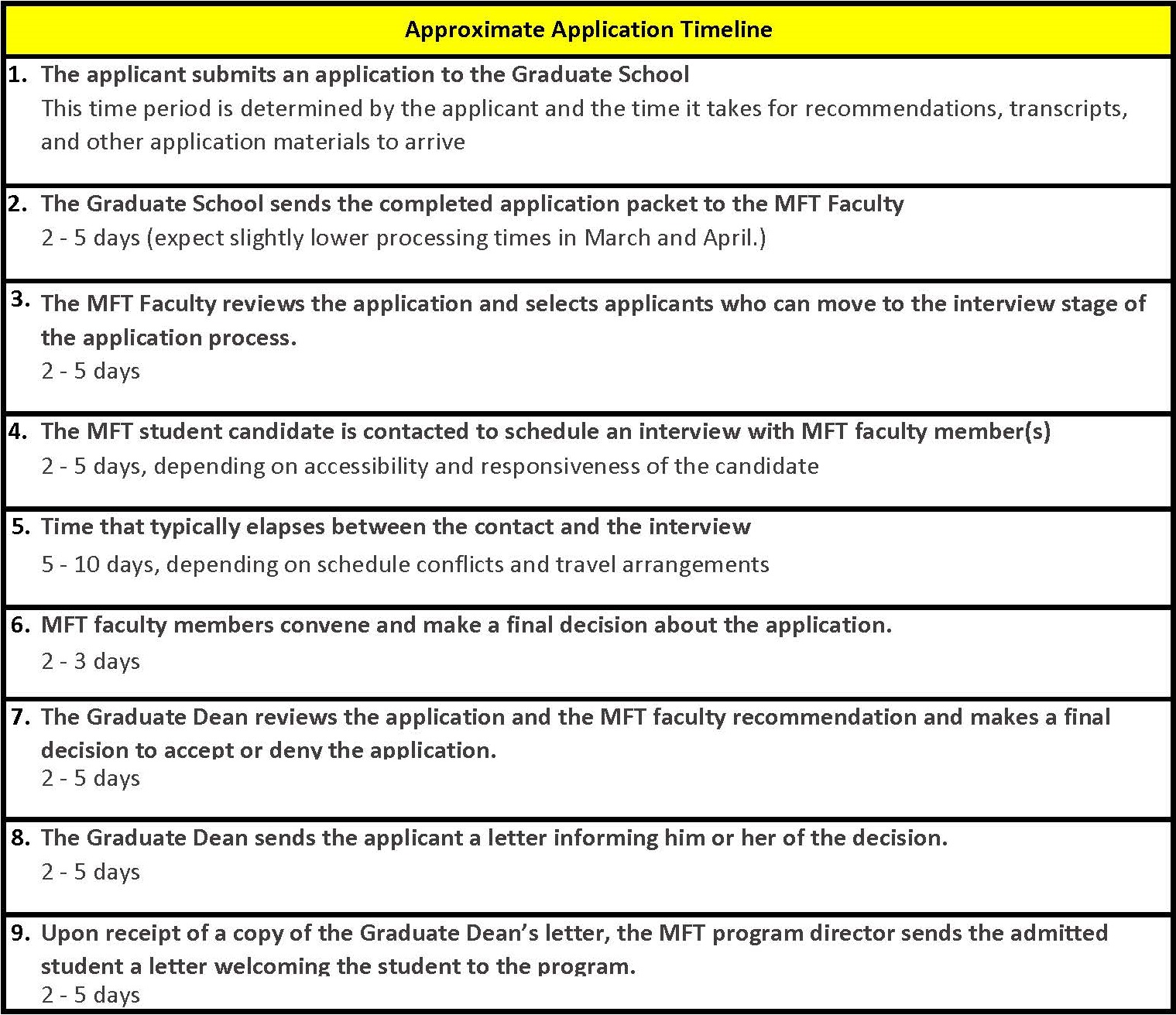 ---
How to Contact the Graduate School or Apply Online
Call the Graduate School at (229) 333-5694 or toll-free at 1-800-618-1878

You can write a letter to the Graduate School by addressing it to
Valdosta State University
Graduate School
Valdosta, Georgia 31698-0005
---
Tuition, Fees, and Financial Aid Information
Tuition and Fees. You can learn more about the tuition and fee schedule at Financial Services Tuition and Fee Schedules webpage.

Financial Aid and Student Loans. VSU has a wonderful website filled with useful information to help students identify sources of loans and other financial aid. To learn more about financial aid, visit the Office of Financial Aid online.

Grants and Scholarships. Grants and scholarships often target minority students. Grants and scholarships for graduate study can also be difficult to find. We've compiled a partial list of organizations that offer grants and scholarships for minority students on our Minority Student Support, Funding, and Resources web page.
MFT Program
Family Works
Family Works Fax
229.219.1280
Campus Address
903 N. Patterson St.
Valdosta, GA 31698
Mailing Address
1500 N. Patterson St.
Valdosta, GA 31698
Monday-Thursday
8:00 a.m.-5:30 p.m.
Friday
8:00 a.m.-3:00 p.m.