Student Awards
Student Employee Recognition Awards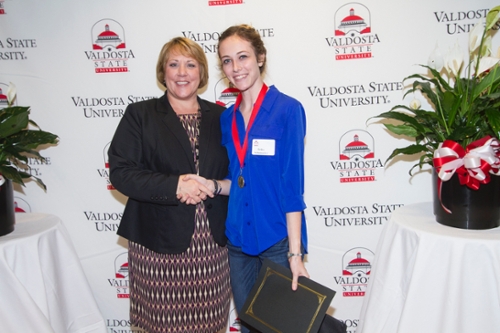 Erika Schumacher and Tess Baker, both Biology students, were honored with certificates as two of the top five student employees across the entire VSU campus. Last year, Erika won the 1st place award, and this year finished in the top 5. This was Tess's first time being honored for her work with Dr. Manning from Chemistry. Congratulations to our students and their fine work!
Marjorie R. Carter Award
The recipient of the award shall be a senior biology major who stands high academically, who most nearly typifies the standards of the University and of the Department of Biology and who best exemplifies qualities of character and professional excellence manifest in the life and service of the late Dr. Marjorie Estelle Carter.
Bianca S. Farley (2014)
Brittany Butler (2013)
Julia V. Fink (2012)
Chelsea Connolly ( 2011)
Lovie Mansfield (2010)
Tiffany Cochran ( 2009)
Mallory Bates (2008)
Ian Hester (2007)
Chris Powell (2006)
Annual Senior Award
Shall be given to the graduating senior with the highest grade point average (GPA) based on sixty or more semester hours of credit earned at Valdosta State University, or with the highest grade point average in math and science courses.
Cody M. Phillips (2014)
Pratikkumar P. Patel (2014)
Shannon Clark (2013)
Benjamin Harper (2012)
Shad Stormant (2011)
Clinton Sheffield ( 2010)
Travis Patterson (2009)
Robert O'Brien (2009)
Brad Royal (2008)
Jessica Thomas (2008)
Elizabeth Jones (2007)
Cara L. Perkins (2006)
Hugh C. Bailey Family Scholarships
This endowed scholarship was created by Dr. Hugh C. Bailey, President of Valdosta State University from 1978 to 2001, to support academic excellence and achievement in every academic discipline through participation in the University Honors Program.  Bailey Scholarships are available to full-time students who have been admitted to the Honors Program and who have completed between 45 and 75 semester hours, including at least 10 semester hours in the VSU Honors Program.  Applicants must have a grade point averages of at least 3.6 for all courses completed, including Honors courses taken at VSU, and must exemplify the spirit of inquiry and service that characterizes the Honors Program.
Matthew Rivera (2012)
Kimberly Edwards (2011)
Monica R. Chana (2006)
Christina L. Huntley (2006)
Jessica M. Thomas (2006)
Senior Student Leadership Award
This university-wide award recognizes students who have shown exemplary leadership throughout their time at VSU, demonstrating involvement in the community, student organizations and activities within their academic discipline.
Benjamin Harper (2012)
Elizabeth Jones (2007)
Mack Varnedoe Greer Sr. M.D. Scholarship
Sky E. Dainty (2014)
Marla Darden (2013)
Matthew Rivera (2012)
Ben Harper (2011)
Viduchi Gupta (2010)
Danielle Baskin (2009)
David and Cecelia Ratcliffe Scholarship
This scholarship was created to recognize a student involved in research and has the potential to contribute to the field of biology.
Bianca S. Farley (2014)
Fran M. Johnson (2014)
Pratikkumar P. Patel (2014)
Colleen Bradley, Shannon Clark, and Andrew Mock (2013)
Crystal Purnell (2011)
Marsha Paulk Scholarship
Established in memory of a former VSU student to a student pursuing a career of an Physician Assistant.
Fran M. Johnson (2014)
Victoria Suttles (2013)
VSU Student Employee of the Year
Finalist: Erika Schumacher (2014)
Finalist: Taneshala Hall (2009)
Finalist: Elizabeth Castillo (2008)
Blazer Leadership Award
Finalist: Mallory Bates (2008)