Contact

General VSU Information


  229-333-5800

Office of Communications


  229-333-2163


  229-333-2157


  229-333-5983

Campus Address
Office of Communications, 1120 Powell Hall
Mailing Address
1500 N. Patterson St.
Valdosta, GA 31698
Contact Us
Contact

General VSU Information


  229-333-5800

Office of Communications


  229-333-2163


  229-333-2157


  229-333-5983

Campus Address
Office of Communications, 1120 Powell Hall
Mailing Address
1500 N. Patterson St.
Valdosta, GA 31698
Contact Us
October 2, 2013
13-276
Jessica Pope
Communications Specialist
Pops in the Park Benefits VSU Music Scholarships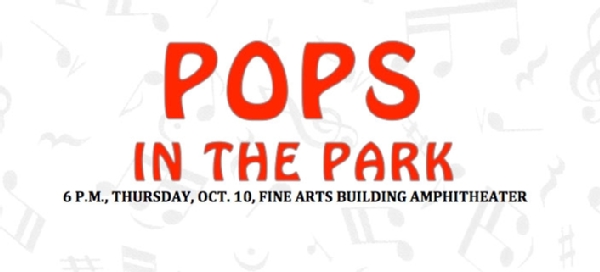 VALDOSTA — Valdosta State University's Music Scholarship Alliance will host Pops in the Park from 6 p.m. to 9 p.m. on Thursday, Oct. 10. General admission tickets are $15 for adults, $8 for students and senior citizens, and free for children ages 12 and under.
Pops in the Park will feature performances by the Steel Drum Band, directed by Paul Campiglia; The Spotlighters, directed by Dr. Paul Neal; the Jazz Ensemble, directed by David Springfield and featuring two VSU graduates, guest trombonist Steve Pruitt and guest vocalist Craig Ward; the Faculty Jazz Combo; and the New Jazz Ensemble, directed by Dr. Joren Cain.
Proceeds from Pops in the Park will benefit scholarships for students studying in the Department of Music. Dr. David Johnson, professor emeritus from VSU's Voice Area, said the Music Scholarship Alliance raised more than $2,000 during the 2012 event, and he described the annual fundraiser as an investment in students — and even an investment in the community.
"Music is important at VSU," he explained, "and the caliber of music students and the attendance at various concerts prove it."
"Our music students are important to the community," he continued. "One will find our music majors playing in restaurants and performing at Wild Adventures Theme Park and other venues in our area. Churches also benefit from the talents of our music students. Several churches employ student musicians for special programs at Christmas, Easter, etc. Some … have an internship program that allows students to serve as choir section leaders, soloists, and on occasion, as director of the choir."
Johnson said Pops in the Park is great family entertainment and encouraged parents to bring their children.
Pops in the Park attendees are welcome to bring their outdoor folding chairs, blankets, and picnic dinners and enjoy an evening of music at the Fine Arts Building Amphitheatre. Tables of eight and catered box dinners from Chartwells at VSU are also available with advanced reservations.
To purchase tickets or make a table reservation, please call the College of the Arts Outreach Office at (229) 333-2150. Tickets will also be available at the door.
To reserve a catered boxed dinner, please call (229) 259-5510.
On the Web:
Contact

General VSU Information


  229-333-5800

Office of Communications


  229-333-2163


  229-333-2157


  229-333-5983

Campus Address
Office of Communications, 1120 Powell Hall
Mailing Address
1500 N. Patterson St.
Valdosta, GA 31698
Contact Us