Contact

General VSU Information


  229-333-5800

Office of Communications


  229-333-2163


  229-333-2157


  229-333-5983

Campus Address
Office of Communications, 1120 Powell Hall
Mailing Address
1500 N. Patterson St.
Valdosta, GA 31698
Contact Us
Contact

General VSU Information


  229-333-5800

Office of Communications


  229-333-2163


  229-333-2157


  229-333-5983

Campus Address
Office of Communications, 1120 Powell Hall
Mailing Address
1500 N. Patterson St.
Valdosta, GA 31698
Contact Us
September 12, 2013
13-258
Jessica Pope
Communications Specialist
VSU Presents Opera After Dark in Downtown Valdosta Sept. 20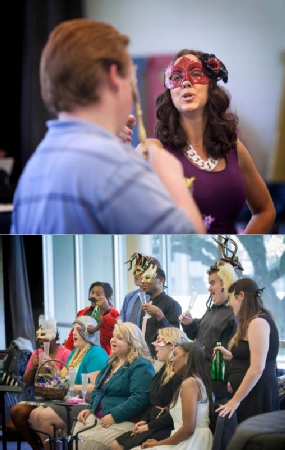 VALDOSTA — Valdosta State University Opera will present Opera After Dark at Bas Bleu Brasserie in Downtown Valdosta at 8 p.m. on Friday, Sept. 20. Tickets are $50 for adults and $40 for students.
Guests will enjoy fine cuisine, featuring Cornish hen catered by Covington's, and fine entertainment, featuring performances by VSU Opera and community students and professional singers. Dr. Tamara Hardesty, an adjunct professor of voice in the VSU Department of Music, will serve as stage director.
"All the music," noted Dr. Carol M. Mikkelsen, director of VSU Opera, "is from famous operettas and folk operas by composers Johann Strauss, the British duo W. S. Gilbert and Arthur Sullivan, and George Gershwin. The arias and ensemble numbers are woven together into a comic pastiche."
Opera After Dark, which is part of Downtown Valdosta's September Art After Dark celebration, will run 90 minutes to two hours.
Tickets are not available online but may be purchased by calling the VSU College of the Arts Outreach Office at (229) 333-2163. Mikkelsen noted that $20 of each adult ticket sold and $10 of each student ticket sold will benefit VSU Opera.
Seating is limited. The deadline to purchase tickets is 5 p.m. on Monday, Sept. 16.
Bas Bleu Brasserie is located at 121 N. Patterson St.
Contact

General VSU Information


  229-333-5800

Office of Communications


  229-333-2163


  229-333-2157


  229-333-5983

Campus Address
Office of Communications, 1120 Powell Hall
Mailing Address
1500 N. Patterson St.
Valdosta, GA 31698
Contact Us