Contact

General VSU Information


  229-333-5800

Office of Communications


  229-333-2163


  229-333-2157


  229-333-5983

Campus Address
Office of Communications, 1120 Powell Hall
Mailing Address
1500 N. Patterson St.
Valdosta, GA 31698
Contact Us
Contact

General VSU Information


  229-333-5800

Office of Communications


  229-333-2163


  229-333-2157


  229-333-5983

Campus Address
Office of Communications, 1120 Powell Hall
Mailing Address
1500 N. Patterson St.
Valdosta, GA 31698
Contact Us
September 20, 2013
13-267
Jessica Pope
Communications Specialist
Nephina Performs in Concert at VSU Sept. 29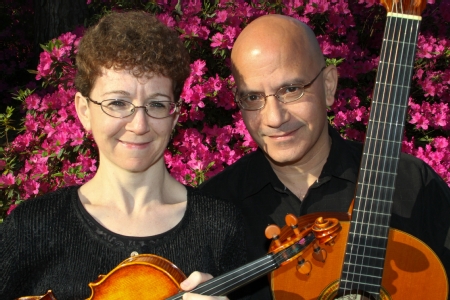 VALDOSTA — The duo Nephina, featuring Nina Lutz on violin and Nephtali Santiago on guitar, will perform in concert at 3 p.m. on Sunday, Sept. 29, on the Valdosta State University Whitehead Auditorium stage. Admission is free of charge and open to the public.
"We've been playing together as a duo for 16 years," said Santiago, a noted guitarist and instructor in VSU's Department of Music. "We love the audience reaction to each of our performances. That is what's most rewarding — to be able to communicate through our music."
Lutz serves as chairwoman of the Department of Music's String Area. She has been concertmaster of the Valdosta Symphony Orchestra, as well as first violinist of VSU's Faculty String Quartet, since 1992.
Nephina's performance lineup includes Johann Sebastian Bach's Sonata in G major BWV 1021, Franz Schubert's Sonatina, Isaac Albeniz's Mallorca, Enrique Granados's Andaluza (Spanish Dance No. 5), and David Leisner's Sonata for Violin and Guitar.
Whitehead Auditorium is located on the first floor of VSU's Fine Arts Building, at the intersection of Brookwood Drive and Oak Street.
Contact Nephtali Santiago at nsantiag@valdosta.edu for more information.
On the Web:
http://www.valdosta.edu/colleges/arts/music/
http://www.valdosta.edu/colleges/arts/music/bios/nina-lutz.php
http://www.valdosta.edu/colleges/arts/music/bios/nephtali-santiago.php
Contact

General VSU Information


  229-333-5800

Office of Communications


  229-333-2163


  229-333-2157


  229-333-5983

Campus Address
Office of Communications, 1120 Powell Hall
Mailing Address
1500 N. Patterson St.
Valdosta, GA 31698
Contact Us