Contact

General VSU Information


  229-333-5800

Office of Communications


  229-333-2163


  229-333-2157


  229-333-5983

Campus Address
Office of Communications, 1120 Powell Hall
Mailing Address
1500 N. Patterson St.
Valdosta, GA 31698
Contact Us
Contact

General VSU Information


  229-333-5800

Office of Communications


  229-333-2163


  229-333-2157


  229-333-5983

Campus Address
Office of Communications, 1120 Powell Hall
Mailing Address
1500 N. Patterson St.
Valdosta, GA 31698
Contact Us
August 18, 2013
13-230
Thressea Boyd
Director of Communications
VSU StormReady Supporter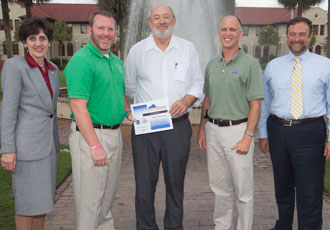 VALDOSTA – Ashley Tye, director of Lowndes County Emergency Management, recognized Valdosta State University as a National Weather Service (NWS) StormReady Supporter. Valdosta State is the first public institution in Georgia to receive this distinction.
The NWS StormReady Supporter recognition acknowledges the university's efforts toward planning, training and awareness aspects associated with storm preparation. The StormReady Supporter certification helps communities develop and improve communication and safety skills needed to prevent deaths and injuries and reduce damage to property in the event of severe weather.
According to the NWS website to earn the designation, a community or campus must:
Establish a 24-hour warning point and emergency operations center;
Have more than one way to receive severe weather forecasts and warnings and to alert the public;
Create a system that monitors local weather conditions;
Promote the importance of public readiness through community seminars; and
Develop a formal hazardous weather plan that includes training severe weather spotters and holding emergency exercises.
For more information on VSU's emergency preparedness, visit the Emergency Information website at http://www.valdosta.edu/student/emergency/welcome.php
Contact

General VSU Information


  229-333-5800

Office of Communications


  229-333-2163


  229-333-2157


  229-333-5983

Campus Address
Office of Communications, 1120 Powell Hall
Mailing Address
1500 N. Patterson St.
Valdosta, GA 31698
Contact Us