Contact

General VSU Information


  229-333-5800

Office of Communications


  229-333-2163


  229-333-2157


  229-333-5983

Campus Address
Office of Communications, 1120 Powell Hall
Mailing Address
1500 N. Patterson St.
Valdosta, GA 31698
Contact Us
Contact

General VSU Information


  229-333-5800

Office of Communications


  229-333-2163


  229-333-2157


  229-333-5983

Campus Address
Office of Communications, 1120 Powell Hall
Mailing Address
1500 N. Patterson St.
Valdosta, GA 31698
Contact Us
February 22, 2013
13-49
Malynda Dorsey
Communications Specialist
College of Business Hosts Salute to Historical African Americans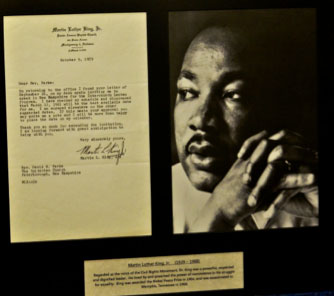 VALDOSTA - Valdosta State University's Langdale College of Business Administration will present a Salute to Historical African Americans in honor of Black History Month at 11:15 a.m. Monday, Feb. 25 in the Pound Hall Auditorium, room 211, on North Campus.
"The event will feature several authentic letters from various historical African Americans, such as Dr. Martin Luther King, Jr., Thurgood Marshall and Booker T. Washington." Donald Williams, local expert on African American Studies, will also lead a brief discussion about the relevance of celebrating black history.
"There are some people, even some in the African American community, who feel like black history is a passé subject," said Attorney Roy Copeland, assistant professor of employment and business law. "They feel like it no longer needs to be talked about. It is important for people to be able to see these authenticated letters and artifacts from black people who have made immense contributions to America. We encourage people to attend and ask questions."
Refreshments will be served in the student lounge following the event.
Contact

General VSU Information


  229-333-5800

Office of Communications


  229-333-2163


  229-333-2157


  229-333-5983

Campus Address
Office of Communications, 1120 Powell Hall
Mailing Address
1500 N. Patterson St.
Valdosta, GA 31698
Contact Us