Wellness and Prevention
Prevention Programs 
Rape Aggression Defense (RAD) Basic Physical Defense
The Cornerstone of R.A.D. Systems, this course has its foundations in education and awareness. Each course includes educational components comprised of lecture, discussion and physical resistive strategies sutiable for women of all ages. Courses will be taught by certified instructors.
Click Here to register for the Spring 2017 RAD Class 
Take Back the Night 2017
Take Back the Night has focused on eliminating sexual violence, in all forms. Thousands of colleges, universities, women's centers, and rape crisis centers have sponsored events all over the country since the 1970s.
Date: Apirl 4, 2017
Time: 7:00 PM - 9:00 PM
Place: Student Union Ballroom
SPEAKER INFORMATION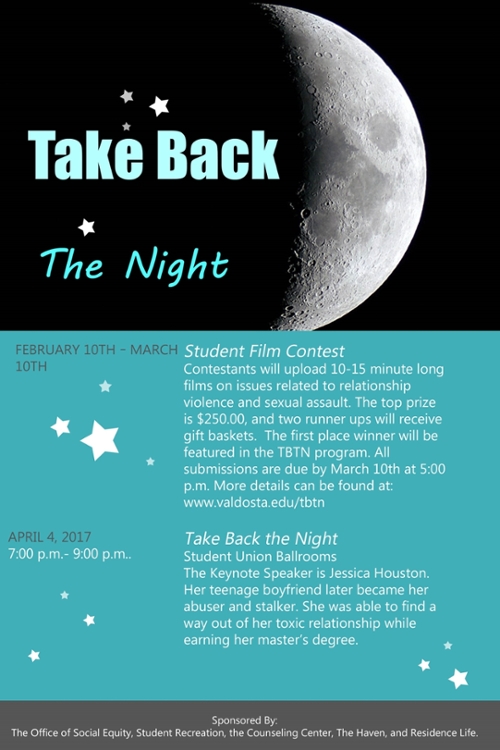 Jessica Houston was a bright teenager, despite her tumultuous childhood. At the age of 17, Houston met a young man who quickly became her boyfriend. He later became her abuser and stalker. Houston's low self-esteem caused her to overlook many of the warning signs. She remained in the abusive relationship for most of her undergrad years. She was able to find a way out of her toxic relationship while earning her master's degree. "It took me finishing my master's degree and getting a job in another state," says Houston. She now holds a Ph.D. and has a published book under her belt (Women's Secrets). She also owns and runs the organization Expecting Victory, which aims to helps women fulfill their personal goals.
SHORT FILM CHALLENGE
February 10- March 10
We would also like to hear from you on issues related to relationship violence and sexual assault. We are accepting submission for short films (10-15minutes) on related issues. The top three winners will receive a prize and be featured in the TBTN program. The winning short film will be shown during the event and receive $250.00. All submissions are due by March 10th by 5:00 p.m.
A video release form must be signed by the video author and any person in the video. These forms will be sent to you via email after your submission is received. Videos will not be reviewed until all release forms are submitted. http://www.valdosta.edu/tbtn
Wellness Programs 
De-Stress Fest 
De-Stress Fest occurs the Wednesday before Finals Week during the Spring & Fall Semesters to help students in relieving some stress that comes with the end of the semester. Most students come for the dogs, but stay for the fun! Some activities that are offered are:
Come join us April 26 from 10am-2pm in the Student Union Ballrooms for Spring 2017 De-Stress Fest!
*Sponsored by Campus Recreation, Campus Wellness & the Counseling Center*
The Ultimate Blazer Challenge
VSU's Campus Recreation, in collaboration with Campus Wellness, is excited to bring you our first annual Ultimate Blazer Challenge! The challenge will take place on March 25th, 2017 on CORE Outdoors' Leadership Challenge Course. The challenge will consist of 2 person race teams to participate in physical AND mental challenges for a course totaling 1.5 miles! Open to fitness enthusiasts of all levels, you won't want to miss this fun and unique challenge of the brain and brawn!
Cost: Student: $20 Community: $25 *Registration includes event tshirt and finisher medal*
Click Here to register for the Ultimate Blazer Challenge! 
Front Office
229.259.5088
After Hours
CORE Outdoors
IM and Club Sports
Aquatics
Fitness
Campus Address
1300 Sustella Ave.
Valdosta, GA 31698
Mailing Address
1500 N. Patterson St.
Valdosta, GA 31698