Parent Information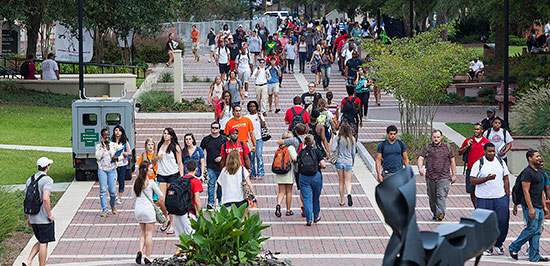 Welcome, Parents!
The college experience is one that shapes students in a variety of ways. Entrance into college is often students' first experiences with complete self-responsibility. The mature nature that college students must cultivate changes students and teaches them to develop different skills to rise to the occasion of adulthood. In Centralized Advising, it is our goal to understand your students on multiple levels to help them face academic challenges. Our team guides your students with advice in their studies and provides them with access to the resources they need to successfully achieve their academic goals at Valdosta State University. 
How We Work With Your Student
Each student is assigned to a specific advisor. Your student's advisor is your student's point of contact at VSU. Although academic advising is often mistakenly identified as just course registration, we, at Centralized Advising, encourage students to develop continuing relationships with their advisors so students can take full advantage of the many opportunities at VSU. (These include Career Opportunities, Study Abroad,and On-Campus Employment.)
During their advising appointments, advisors work to get to know and understand your student on a personal level to better aid your student in making the right respective academic decisions. Advisors provide students with academic tips; they speak with students about their college adjustment experiences; and they discuss your student's interests to effectively help your student achieve academic success.
Academic advising is mandatory at Valdosta State University and each student must meet with his or her advisor prior to registering for the next semester's classes. 
What is Full-Time Status?
To be considered a full-time student at Valdosta State University, students must be enrolled in a minimum of 12 semester hours. 
How Parents Can Help Their Student?
Parents can ease their student's transition into college on an academic level by encouraging students to establish and maintain strong relationships with advisors and faculty, emphasizing the value in these people as resources.
Maintain open communication about academic progress and grades with your student and support your student's efforts to achieve academic success.
Encourage your student's involvement in student and university organizations. Getting involved increases a student's ability to network, a skill that can lead to other opportunities such as internships and future careers.
Encourage your student to choose a field of study that suits his or her interests, skills, and abilities.
How Can Students Change Their Advisors?
 Students may change their academic advisors by requesting an academic advisor change at the Centralized Advising office.
FERPA
229.259.5073
Campus Address


University Center

Room 1200

Mailing Address
1500 N. Patterson St.
Valdosta, GA 31698

Monday-Thursday

8:00 am-5:30 pm


Friday

8:00 am to 3:00 pm