Study Abroad
Earn course credit by traveling to Germany and Prague in 2014 Would you like to substitute one of your on-campus courses for travel to Europe? You CAN. Learn more about the tour or enroll for the tour
Learn about financial aid for study abroad
Learn a bit more about study abroad at VSU
People, places, and history come alive when you are a traveler. So DO IT!
In July of 2014, some of the MFT faculty will be leading a study abroad trip that will take you to Munich, Berlin, and Prague. So join your classmates traveling to Europe. We will be visiting various mental health related institutions, including the world famous Max Planc Institute of Psychiatry, one of the world's leading research institutes in psychiatry. And, of course, you'll have lots of free time to explore on your own!
Click here to see BEAUTIFUL Munich (3:20 minute YouTube.)
These two photos, above and below, are of Munich's beautiful New Town Hall
Where ELSE Have MFT Students gone abroad?
"It was great to have an opportunity to become culturally immersed, while also being able to apply what we were all learning in the classroom. Not to mention the many unique sights and experiences that make up the study abroad experience." - Leslee Bry, Class of 2012
"I thought my graduate schedule would not allow time for me to study abroad, and when I found that it did, it enriched my learning beyond what I could have imagined! Those are memories I still talk about today." -- Misty Lamb, Class of 2008 
Read an account of Misty's trip to the Czech Republic
"It was such a humbling experience to spend a day with the most well known therapist in their country."
-- Kacy Mixon, Class of 2006 
Each year, nearly a quarter of the students in VSU's Marriage and Family Therapy program take advantage of study abroad opportunities during their summer semester. This is an opportunity for MFT students to replace credits usually earned in the classroom with a summer excursion to a culturally rich location such as the Czech Republic, Belize, China, or England. 
These study abroad excursions are possible thanks to MFT program partnerships with other academic programs on the VSU campus. In collaboration with these programs, trips are planned with a focus of study in areas that are important to marriage and family therapy, such as family therapy, criminal justice, and psychology.
Below you will find descriptions of a few of the more popular study abroad opportunities available to you as an MFT student. In addition to these opportunities, the university sponsors a host of other study abroad opportunities that can be customized to fit with family therapy training. For more information about study abroad programs, visit the International Programs webpage. Given the high value that the program places on diversity and exploring otherness—what better way to learn about new perspectives than to dive into another culture?
Live and Learn in China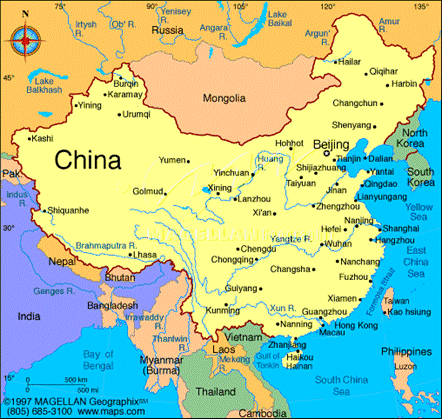 Read the excellent account of one MFT student's summer 2010 trip to China. Wonderful!
Visit landmark cities including Beijing, Shanghai, Xi'an, Luoyang, Kaifeng, and Dengfeng. Tour unique sites like Terra Cotta Soldiers Museum, Shaolin Temple, Iron Pagoda, etc.
Earn up to 6 semester credits in courses taught by professors of the University System of Georgia.

All courses combine classroom instruction with field trips and weekend excursions.


A joint program with the Asia Council's Chinese Language study is available. Additional cultural enrichment programs in martial arts, Tai-Chi, Chinese dances, culinary arts, and more are also offered.
Study abroad to China costs $3,190.00, which includes roundtrip airfare, lodging and most meals, class field trips, weekend excursions, most ground transportation, and visa application.
For more information about study abroad in China, contact Dr. Wilson Huang
Dr. Wilson Huang 
Dept. of Sociology, Anthropology, and Criminal Justice
Valdosta State University
Valdosta, GA 31698 
Phone: (229) 333-5486
E-mail: whuang@valdosta.edu
Live and Learn in the Czech Republic 
Learn more about the Live and Learn in the Czech Republic
The Czech Republic provides an arena for students to not only become more culturally aware and diverse in their thinking, but also to become more familiar with the application of philosophies central to the MFT program here at Valdosta. The host institution for study abroad in the Czech Republic is Palacky University. This is where study abroad participants will live and learn in a dorm room atmosphere for a large portion of the trip. What is wonderfully convenient about this central location in Europe is that Olomouc makes travel to Vienna, Krackow, and Prauge easy.
On the left is a map of the Czech Repubic and its surrounding countries such as Poland and Austria. Students will have the opportunity to visit Krackow, Poland, Vienna Austria, and many cities within the Czech Republic such as Prauge and Olomouc. To the right is a photograph of current MFT students in front of one of the many famous Gothic Cathedrals in Olomouc, CZ.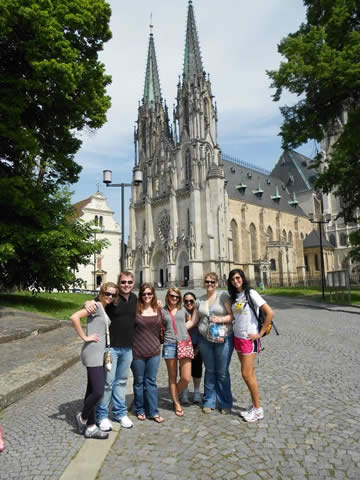 Get more information by contacting Dr. Robert Bauer:
Dr. Robert Bauer, Director 
Czech Study Program
Department of Psychology and Counseling
Valdosta State University
Valdosta, Georgia 31698-0100
PH: 229.333.5930      FX: 229.259-5576
Email: bbauer@valdosta.edu
Other Things MFT's Thought Might be Helpful to Know About the Czech Republic
Kat Miller (Class of 2012)
"First off, I want to just state that I LOVED being in Europe. It was THE trip of my lifetime so far and if I could do it all over again, I wouldn't hesitate for a second. I chose to go for many personal as well as professional reasons. When I went I did learn a lot about our field and got to completely immerse myself into another culture. This allowed me to open my perspective and help me understand people from a different angle other than my own." Here are a few things I wish I would've known before I went/helpful tips:They do wear white tennis shoes over there, although it's not common. You WILL get blisters, either on your feet or your hand, pack bandaids. Try not to travel in large groups, they get annoyed by too many Americans at once. Don't expect to get out of a meal in under an hour, it won't happen. I hope you like Italian, you'll get a lot of it there. I also went to Germany for a weekend, I highly recommend it. Munich is gorgeous and I would die to go back again. If you can, stay the weekend in Vienna, and go back later. The "weekend excursions" are really "day excursions" and you ride a bus there and back, or the train. They do speak English over there, but it is a DIFFERENT country, therefore, they do not speak English as a first language. When you're about to freak out, breathe. You will get lost, enjoy the experience, don't fight it. When they give you key phrases you'll need to know, write down how they spell it and how to sound it out. Carry it with you. It will help. As you learn words, I recommend writing them down (it will help you in the long run). Try to get a word list from someone who's gone before. Pack with the intentions of bringing twice as much stuff home. Research the areas you're going to, so that way you know what's there and what you want to see so you get the full experience of the trip. It's okay to go out on your own. You won't be mugged most likely (depending where you are). Use common sense. Try to adapt with their society, it makes for a different experience. Best advice: Don't fight the situations you get tossed into. It is all a learning experience, even getting lost.
Annonymous (Class of 2012)
"Keeping in mind that the dorms are small and very different than what you may be used to. There is NO good toilet paper so bring some! Oh and the public bathrooms are not free so plan ahead. The smells are unusual to say the least. I would like to warn future travelers to take various outfits for all seasons as the weather is unpredictable; summer, winter, fall, and spring. Also do not forget an umbrella!I loved Prauge, CZ and the pub crawl that was offered. Also, do not pass up Daniel's Dognuts or Caesars! The food was wonderful for the most part. Be adventurous. Vienna is gorgeous and if you can spend extra days there I highly recommend it! Also do not expect everyone to speak English, learn a little of the Czech language to get by. The people of Olomouc will appreciate it!"
Clark Lawson (Class of 2012)
"The town of Olomouc was an interesting experience to say the least. It caters to all people who are visiting this historic town. The city was well preserved and had a remarkable story wherever you visited. The nightlife on the other hand was a reverencing outing. The bars all had many different beers from all over the world which satisfied any insatiable thirst one might have. The town also offered many traditional Czech delicacies that you could sample, which mind you is an adventure in itself. DO NOT try the stinky cheese if you value your tastebuds remaining intact. Aside from Olomouc, Prague is the by far the best city to visit and experience all that it has to offer. Having been to Prague before, I was able to revisit and discover new places of interest. Keep in mind that the Prague Beerfest is the second week in May if you wish to try out the many delicious beers from all over! I encourage everyone to experience this festival!"