Ed.D. Leadership
Program Description
The Ed.D. degree with a Major in Leadership offers an engaging and flexible educational model designed to fit the busy schedules of working professionals in a variety of fields. The Doctor of Education in Leadership develops skilled, ethical and diverse leaders who can effectively lead organizations in a rapidly changing work environment. Skill applications bridge the connections between knowledge and inquiry. The skills developed in the core leadership, interdisciplinary, and research curricula contribute to the development of a culture of continuous organizational improvement.  You will enjoy learning from our quality doctoral faculty whose real-world experience and knowledge has been acquired through many years learning, researching, and working in our field.
You may choose to apply for either our VSU on campus program or our program offered at Middle Georgia State College in Macon.
Please follow this link to a document that lists the required courses and their descriptions.
Doctoral Concentrations
The Ed.D. in Leadership allows doctoral students to further develop or "fine tune" a concentration commensurate with their existing or future professional responsibilities. A particular concentration consists of 12 hours of guided electives approved by the doctoral advisor, and will be generally be declared by the student prior to beginning course work. Existing concentrations are: 
Organizational Leadership
Curriculum Leadership
Educational/Leadership (PL)
Higher Education Leadership
Technology Leadership
Special Education Leadership
*Other concentrations may be developed by the student working in conjunction with his or her advisor
Cost and Length of Program
The prescribed Ed.D. Leadership course sequence will allow you to complete the course requirements of the program within 30 months. The dissertation process varies from student-to-student, but most can complete their dissertation in 18 months. Based on completing 46 course hours and 9 dissertation hours, the cost of the program is *$21,930. We encourage you to compare our cost with any other institution. We think you will be pleasantly surprised to see what a great value VSU is.
*Estimated cost computed based on Fall 2015 rates.

Program Delivery Format
Our program is delivered through a combination of online and face-to-face courses. At least three of the required courses are taught completely online. There are five research sequence and three major courses that are taught in a hybrid format that include face-to-face classes meetings in Valdosta up to four Friday nights and Saturdays per semester. Electives will vary in delivery format based on your approved selections.
Getting Started in the Program
If you have any questions, please contact me by phone at 229-333-5633 or by email at clt@valdosta.edu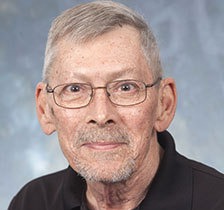 Dr. Gerald SiegristLeadership Doctoral Program Coordinator
Main Office
FAX
229.259.5094
Campus Address
Curriculum, Leadership, and Technology Building
Second Floor
1310 N. Patterson St.
Valdosta, GA 31698
Mailing Address
1500 N. Patterson St.
Valdosta, GA 31698
Monday-Thursday
8:00 a.m.-5:30 p.m.
Friday
8:00 a.m.-3:00 p.m.