Contact

  229-219-1327


  229-219-1335

Campus Address
Special Education and Communication Disorders Building

Mailing Address
1500 N. Patterson St.
Valdosta, GA 31698
Contact Us
Contact

  229-219-1327


  229-219-1335

Campus Address
Special Education and Communication Disorders Building

Mailing Address
1500 N. Patterson St.
Valdosta, GA 31698
Contact Us
Welcome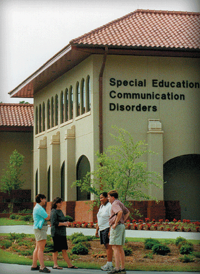 The Department of Communication Sciences and Disorders (CSD) provides a program that leads to a Bachelor of Science in Education degree with a major in Communication Disorders. This program is designed to introduce students to the field of Speech-Language Pathology and to allow them to develop knowledge specific to intervention for individuals with communication disorders.
The Master's of Education Degree in Communication Sciences and Disorders builds upon knowledge acquired during undergraduate study.  The program goals for the undergraduate program are to provide the undergraduate student an education in normal and disordered aspects of communication and to provide undergraduates with pre-professional training to prepare them to enter graduate programs in communicative disorders.
The department is also home to the Valdosta Speech & Hearing Clinic. The goal of the Clinic is to offer hearing evaluations, speech evaluations, and speech/language therapy to the community.  Services are provided by graduate clinicians, who are supervised by licensed and certified Speech-Language Pathologists

The Communication Sciences and Disorders Program is accredited in the area of speech-language pathology by the Council on Academic Accreditation in Audiology and Speech-Language Pathology (CAA). National accreditation ensures that the program meets specified standards in the areas of administrative structure and governance, faculty and instructional staff, curriculum, students, assessment, and program resources. Students graduating from an accredited program are eligible for state and national certification.
Related Resources
Contact

  229-219-1327


  229-219-1335

Campus Address
Special Education and Communication Disorders Building

Mailing Address
1500 N. Patterson St.
Valdosta, GA 31698
Contact Us