The Standard-ACED'S eNewsletter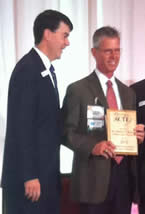 Dr. Charles Backes Honored as the GACTE 2012
Georgia Outstanding Career and Technical Educator
Dr. Charles Backes was selected as the 2012 Georgia Outstanding Career and Technical Educator by the Georgia Association for Career & Technical Education (GACTE) during their annual conference, which met July 15-18, 2012 at the Cobb Galleria Centre in Atlanta, Georgia. Dr. Backes was nominated by the Trade and Industrial Educators of Georgia (TIEGA) as its affiliate award winner.
Dr. Backes is a professor of Adult and Career Education in the Dewar College of Education at Valdosta State University. His primary areas of specialization include technical teacher preparation and workforce education. He also serves as the Director of Professional Education for the National Joint Apprenticeship Training Committee (NJATC) and serves as an honorary command chief with the 93rd Air Ground Operations Wing (AGOW) at Moody Air Force Base. As a technical educator for more than 30 years, he has prepared hundreds of individuals as they enter or advance through the technical work force. He has a Ph.D. in Vocational Education from Louisiana State University. He is married to Lora Backes, who is also on the faculty at Valdosta State University.
Dr. Backes will advance to compete for regional and national honors over the course of the upcoming year.
******* Information about GACTE ********
The Georgia Association for Career & Technology Education (GACTE) is the second largest state affiliate of the national organization, Association for Career & Technical Education (ACTE). Georgia's 2,700 members represent high school, technical college, and university faculty and administrators who are associated with career, technical, and agricultural education.
What is the Association for Career and Technical Education?
Founded in 1926, the Association for Career and Technical Education (ACTE) is the largest national education association dedicated to the advancement of education that prepares youth and adults for successful careers.

What is ACTE's Core Purpose?
To provide leadership in developing an educated, prepared, adaptable and competitive workforce.
Who does ACTE represent?
The strength of ACTE is reflected in its diverse membership composed ofmore than 27,000 career and technical educators, administrators, researchers, guidance counselors and others involved in planning and conducting career and technical education programs at the secondary, post-secondary and adult levels.

What does ACTE do?
ACTE is committed to enhancing the job performance and satisfaction of its members; to increasing public awareness and appreciation for career and technical programs; and to assuring growth in local, state and federal funding for these programs by communicating and working with legislators and government leaders.
Articles
In September 2011 and January 2012, the VSU Center for Economic Education held a workshop for area teachers of economics that trained the teachers on how to participate in the Stock Market Activity sponsored by the Georgia Council on Economic Education.Drs. Cindy Prater and Vesta Whisler, in their roles of co-directors for the VSU Center for Economic Education, work closely with the Georgia Council of Economic Education to host workshops on various economic topics on a regular basis. During this workshop, Drs. Prater and Whisler explained the rules and procedures for the Stock Market Game in Georgia, a game that is used in secondary schools as a real-world application of the laws of economics in private enterprise. The game has more than 35,000 student participants each year and has brought financial literacy to the schools around the state.
Dr. McClung has recently returned from a trip to Vancouver, Canada. There, he presented at the 12th International Conference on Diversity on Organizations, Communities, and Nations. The title of the presentation was "Generational Issues in Educational Systems," and will be published in their next peer-reviewed journal. However, the highlight of the conference was his transportation to Canada. Instead of taking a plane to the conference, Dr. McClung rode his Harley Davidson motorcycle to and from the conference. This was a 20 day trip where he could travel through the different cities enjoying the scenery as well as attend another successful conference.
On March 13, 2012, Dr. Prater conducted a Professional Image Workshop for Training and Development at VSU. She has done this presentation for Training and Development and KSPE Master's students on several occasions. The agenda consisted of a professional image quiz, a role-play, YouTube dining etiquette, a question and discussion session, and many more topics. Some of the objectives that the workshop AND Dr. Prater covered were
How to dress professionally
How to communicate more effectively
How to follow proper business etiquette, both here and in some other countries
How to conduct yourself at a business meal