Contact

  229-333-5991

Campus Address
Rea and Lillian Steele
North Campus
Corner of Patterson & Pendleton Streets
Mailing Address
1500 N. Patterson St.
Valdosta, GA 31698
Contact Us
Contact

  229-333-5991

Campus Address
Rea and Lillian Steele
North Campus
Corner of Patterson & Pendleton Streets
Mailing Address
1500 N. Patterson St.
Valdosta, GA 31698
Contact Us
LCOBA students bring home top honors from the Academy of Economics and Finance Conference Undergraduate Paper Competition
February 15th
Two Valdosta State University students from the Langdale College of Business brought home top honors February 15th.
The two students, Rebecca Falks and Felina Duncan, along with Dr. Zulal Denaux, Professor of Economic, attended the Academy of Economics and Finance Conference Undergraduate Paper Competition in Mobile, AL. Rebecca was awarded the 2013 Best Undergraduate Student Paper Award and Felina's paper was ranked 4th among all undergraduate papers presented.
The Judges had extremely positive comments about the quality of both students' papers and presentation skills. Both students representedthe Langdale College of Business and Valdosta State University well at the conference.
Congratulations to all!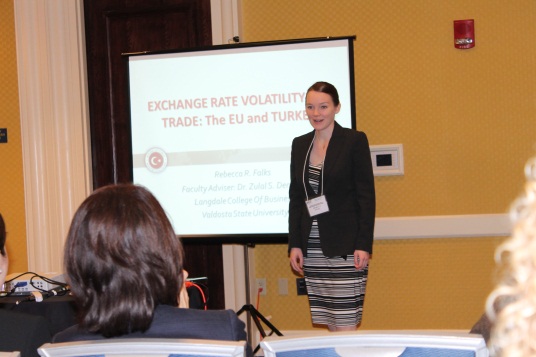 Rebecca Falks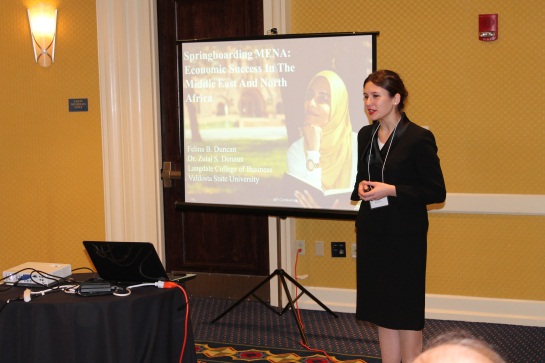 Felina Duncan
Contact

  229-333-5991

Campus Address
Rea and Lillian Steele
North Campus
Corner of Patterson & Pendleton Streets
Mailing Address
1500 N. Patterson St.
Valdosta, GA 31698
Contact Us