Germany Study Abroad
       Germany - June 28 – July 26, 2015
"Business in Germany"
  is a 4 –week program in scenic southern Germany on the Rhine River. Hosted on the campus of Karlsruhe University of Applied Science in Baden-Wurttemberg, a region which borders France, Switzerland and Austria. The geographic location (in the proximity of Strasbourg, France) is ideal for travel throughout Europe. We visit world class companies such as Audi, Mercedes, Europe-Assistance, etc. ; as well as culturally significant cities such as Nuremberg, Munich, and Strasbourg. Cultural understanding will be further enhanced with visits to historically significant places such as Verdun, Dachau, and the Middle Rhine River valley. 
Program Cost:
The complete program cost is $3995 which includes airfare, accommodations, insurance, all meals, and faculty lead excursions. The program cost does not cover the VSU tuition and fees.
Scholarships and Payment Plans are available:
Study Abroad Scholarships are available for Langdale College of Business Majors.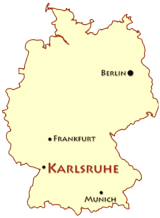 Courses offered:
ECON 3600 International Economics (3 credits) 1
ECON 3610 Trade and Culture: An Economics Perspective (3 credits) 1,2
IB 3600 International Business and Culture (3 credits) 1,2
INTL 3170 German Language and Culture (3 credits) 2
1Honor section available; 2open to all majors
Contact:
Dr. Marko Horn
Assistant Professor of Management
229-259-5505