Study Abroad
VSU College of the Arts -
Summer Study Abroad in Montepulciano, Italy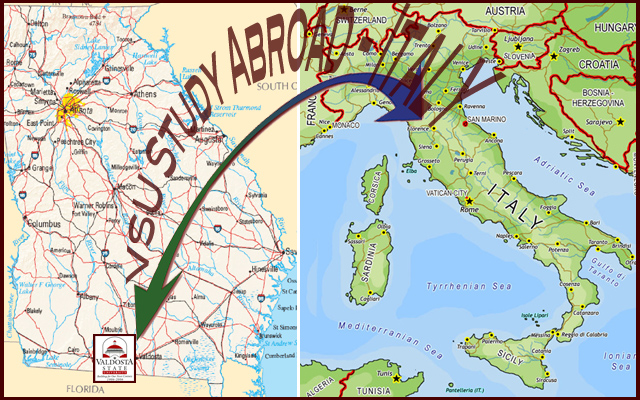 Courses offered: Courses include art history, drawing, and art courses for non-art majors. 
ARTH 3120 - Understanding Visual Art (3 credits)
HIST 1101 - An Introduction to World HIstory I (3 credits)
ENGL 3300/3330 - Writing Italian Feminism (3 credits)
BIOL 4020 - Global Sustainability (3 credits)
ART 4180 - Digital Photography in Italy (3 credits)
HIST 3090 - Making of the Modern Mediterranean (3 credits)
ENGL 2111 - The Italian Masters (3 credits)
PERS 2490 - Plants and Civilization (3 credits)
"A lesson in living in Italy for four weeks"

Students may visit locations such as, Florence, Capri, Cinque Terre, Venice, Sorrento, Siena, Rome, Pompeii, and Pisa...

Study Abroad Information & Details:
Information below is a summary for summer study abroad - 
Prior to each trip, there will be an informational meeting - Location & Time TBA. All interested students are invited to attend.
Approximate Cost: $4,800 - plus cost of tuition. Cost includes airfare, housing, five dinners per week, program-related field trips including all admissions/museum entry fees and emergency health insurance.

Earn up to 6 semester credit hours for courses. (The program cost typically includes round-trip airfare, lodging, trips to Rome and other cultural and historic sites, and many museum entrance fees. The cost does not include tuition, meals, passport and other expenses. The Hope Scholarship may be applied to tuition.) 
Academic Credit and Financial Aid:  Receive credit for VSU courses. Financial aid including the HOPE Scholarship, Pell Grant, Stafford Loan, and institutional scholarships may be applied to study abroad programs. Some special Study Abroad Scholarships may also available for these programs. Contact VSU Center for International Programs for details. New Programs are being developed each year, so check with the Center for International Programs for updates!!!
Typically, price includes round-trip airfare, accommodations, International Student Identification Card, some museum sites, class related class excursions to educational, cultural and historic sites.
**The package cost does not include tuition, passport and related expenses. Cost is subject to slight change in the event of unanticipated increases in airfares or other program elements.
For More Information
Italy Online Application - International Programs, Valdosta State University
Irina McClellan, Assistant Director and Study Abroad Advisor
229-333-7410 
229.259.5121
Campus Address
VSU - College of the Arts
Department of Art
Fine Arts Building
Room 1070A - 1st Floor
Valdosta, GA 31698
Mailing Address
1500 N. Patterson St.
Valdosta, GA 31698
Monday-Thursday
8:00 a.m. - 5:30 p.m.
Friday
8:00 a.m. - 3:00 p.m.