WGST Lecture Series
West Costgrove, Exective Director, Project Puente
"Borders, Immigrants and National Values: Shaping Immigration Policy to Benefit Everyone"
Monday, September 19, 2011
6:00PM
Student Union Theater
West Costgrove, Exective Director, Project Puente
"Borders, Immigrants and National Values: Shaping Immigration Policy to Benefit Everyone"
Monday, September 13, 2010
6:00PM
Student Union Theater
West's lecture will focus on the phenomenon of immigration, particularly illegal immigration. He will respond to such questions as, "Why do people come, why don't they come legally, do they take jobs from U.S. citizens". He will also speak about why it is in everyone's best interest that we enact comprehensive immigration reform as soon as possible.
West Cosgrove is the founder and Executive Director of Project Puente in El Paso, Texas, an educational project along the US - Mexico border addressing the realities of economic and political injustice arising from globalization. For almost three decades West has been involved in Latin American social and political activism. He lived and worked for seven years in Barquisimeto, Venezuela where he helped develop a food cooperative and a local newspaper in an economically poor neighborhood. For the past 17 years West has lived and worked along the U.S. – Mexico border, developing a week long border studies seminar. To date over 150 groups and 1,500 individuals have participated in this program. West has a B.A. in Liberal Arts from the University of St. Thomas and a Masters in Religious Studies from Seattle University.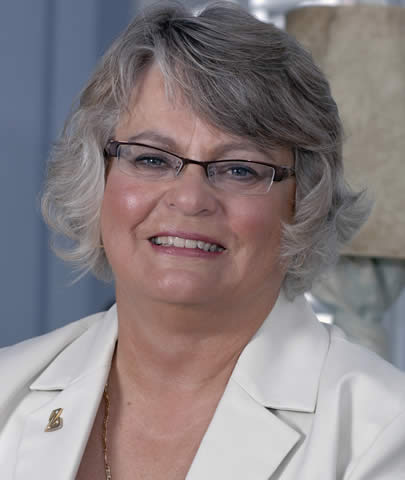 Nola Theiss, Executive Director,
Human Trafficking Awareness Partnerships (HTAP)

"Human Trafficking"

Monday, October 11, 2010

6:30PM

Student Union Theater

 

Nola's lecture will focus on the current state of human trafficking globally and in the United States and what is being done to fight it and, most importantly, what you can do.

Nola Theiss is the founder and Executive Director of HTAP. She was the founding Chair of the Coalition Against Human Trafficking in SW Florida, now called the Lee County Human Trafficking Task Force.

She has won numerous awards for her work in promoting human trafficking awareness locally, regionally, statewide and nationally. She has spoken regionally at events ranging from task force organizing presentations, bar association conferences, film festivals, police chief associations, migrant educator conferences, hospital social worker trainings, Salvation Army trainings, university student organizations and panel discussions on community efforts and has led frequent community organization trainings through the FL Regional Community Policing Institute throughout the state of Florida.She recently developed the HTAP ARTREACH program which educates girls about the dangers of human traffidckingthrough art projects.

Theiss is the former mayor of Sanibel, FL and holds a Masters in Public Administration as well as degrees from Johns Hopkins University and the University of Illinois. For over6years, she has dedicated herself to the issue of human trafficking - fighting it through public awareness and using the skills she has developed through her work as an educator, writer, administrator, public official and scholar, helping communities form their own community based organizations.

Kathleen A. O'Shea, Writer/Activist
"If I Should Die Before I Wake:
Women Aging In Prison"
Tuesday, November 2, 2010
6:30PM
Student Union, Ballroom A
Kathleen's lecture will focus on the health issues of women "aging" in prison, specifically women over 50 who have life-without-parole sentences.
KATHLEEN A. O'SHEA, is a nun (for 30 years) and a Pulitzer nominee. She is an independent social worker who does research on women prisoners with an emphasis on women on death row. She is on the Board of the National Prisons Foundation in Washington DC and describes herself as a teacher, writer, activist, and lecturer. Ms. Magazine has called her the leading authority on the subject of women on death row. O'Shea published Female Offenders: An Annotated Bibliography in 1997, Women and the Death Penalty in the United States: 1900-1998, in 1999, and Women on the Row: Revelations From Both Sides of the Bars, in May, 2000. Her work with Women on Death Row was profiled in a documentary on Women's Television Network in February 2007 and again in the form of a play presented at the Kennedy Center in Fall 2009. Her recently finished manuscript Faithful Companions: Nuns and Death Row Inmates is a collection of stories of 30 nuns who befriended death row inmates. She is actively involved translating (from Spanish to English) the stories of women who were tortured, murdered or disappeared in Chile during the Pinochet regime and is working on a novel Adios Companera: A Chilean Memoir loosely based on her years in Chile (1965-1973). Her memoir of the beginnings of her religious life, Many Mansions is trying to find a publisher
Dr. Brenda A. Risch
"Black Holes: The Erasure of Race and Class in Contemporary Television Science-Fiction"
  Director and Assistant Professor Women's Studies,
University of Texas at El Paso
September 8, 2009
Bailey Science Center Auditorium (Room 1011)
7:00pm
Dr. Brenda Risch is currently the director of the Women's Studies Program at UTEP and an assistant professor in Women's Studies. Her research interests include film and television studies, visual and narrative representation of the body, and working class culture.
Dr. Risch holds a Ph.D. in Comparative Literature from the University of North Carolina at Chapel Hill
Dr. Irasema Coronado
"Gender Issues on the U.S.-Mexico Border"
 October 6, 2009
Bailey Science Center Auditorium (Room 1011)
7:00pm
Associate Professor and Associate Provost at the University of Texas at El Paso
Dr. Coronado received her bachelor's degree in political science and a certificate of Latina American Studies from the University of South Florida. She has an Masters degree in Latin American Studies and a Ph.D. in Political Science from the University of Arizona. Her area of specialization is comparative politics. Her research interests include border politics, cross-border cooperation, environmental and gender issues on the U.S.-Mexico border region.
She is co-author of the book titled Fronteras No Mas: Toward a Social Justice at the U.S.-Mexico Boarder and several academic articles. She is co-chair of the Coalition Against Violence Toward Women and Families on the U.S.-Mexico Boarder.
Film - "The Greatest Silence:
Rape in the Congo"
November 12, 2008
Since 1998 a brutal war has been raging in the Democratic Republic of Congo (DRC). Over 4 million people have died. And there are the uncountable casualties: the many tens of thousands of women and girls who have been systematically kidnapped, raped, mutilated and tortured by soldiers from both foreign militias and the Congolese army.
The world knows nothing of these women. Their stories have never been told. They suffer and die in silence. In The Greatest Silence: Rape in the Congo these brave women finally speak.
Emmy Award winning producer/director Lisa F. Jackson spent 2006 in the war zones of eastern DRC documenting the tragic plight of women and girls in that country's intractable conflict. She was afforded privileged access to not only the grotesque realities of life in Congo (including interviews with self-confessed rapists) but also to examples of resiliency, resistance, courage and grace.
Jackson was herself gang raped in 1976 and shared her experience with the survivors she interviewed. These women in turn recount their stories with an honesty and immediacy pulverizing in its intimacy and detail. The film is a journey into a literal heart of darkness, a search for survivors who pay witness to their own experiences, and break the silence.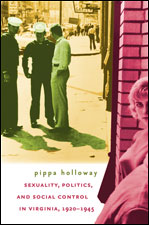 Dr. Pippa Holloway
"Venereal Disease and the Politics of Social Control in Virginia 1920-1940"
 Associate Professor of History,
Middle Tennessee State University
October 29, 2008
Pippa is an associate professor of history at Middle Tennessee State University. She is the author of Sexuality Politics and Social Control in Virginia 1920-1945 (UNC Press, 2006) which won the Willie Lee Rose prize from the Southern Association of Women's Historians. She is the editor of Other Souths: Diversity and Difference in the U.S. South, Reconstruction to Present (University of Georgia Press, 2008). For the 2007-2008 academic year she was a Soros Justice Fellow with the Open Society Institute, where she pursued research on the history of disfranchisement for crime in the 19th and 20th century south. Her forthcoming article, "A Chicken-Stealer Shall Lose His Vote: Disfranchisement for Larceny in the South, 1874-1890," will be published in the Journal of Southern History in Novemeber 2009.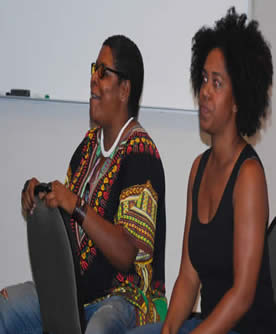 Kathy Wilson
"Your Negro Tour Guide"
 Writer
September 22, 2008
Torie has been performing since the age of two. She trained in Atlanta, Chicago's Second City, and was the second African-American actress to graduate with a BFA in Dramatic Performance from the University of Cincinnati-College Conservatory of Music. She served as Artistic Director of the Black Arts Collaborative and appeared in Love's Fire, The Tempest, The Grapes of Wrath, The Mutilate, Marisol, Blues for an Alabama Sky, The Colored Museum and The Vietnam Project. Currently residing in New York, she has appeared on All My Children, the new feature film Love Me Through It and her voice can be heard on national television and radio commercials for The Home Depot, Burger King, H & M, The WNBA and The National Center for Family Literacy.
Carol M. Poteat-Buchanan
"Ending Violence Against Women & Girls"
 President, US National Committee for UNIFEM
November 27, 2007
Each year rougly two million girls between the ages of 5 and 15 are trafficked, sold, or coerced into prostitution. An estimated 130 million women have undergone Female Genital Mutilation and an additional 2 million are being subjected to it each year. Women's bodies have become a battleground for those who use terror as a tactic of war-- they are raped, abducted, humiliated, and made to endure forced pregnancy, sexual abuse, and slavery. Carol Poteat-Buchanan will talk about UNIFEM's experiences in combating violence against women and girls.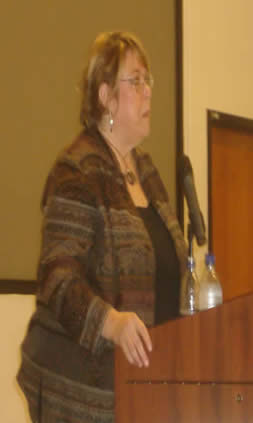 "Whiteness: Seeing the Invisible"
Dr. Gail Griffin
Writer & Parfet Distinguished Professor
November 6, 2007
Dr. Gail Griffin, Kalamazoo College, Michigan will be talking about critical whiteness studies, the study of racial whiteness and its role in systems of racism. Her talk will explore the confluence of whiteness studies, feminism, teaching, and learning.
Dr. Griffin is the author of two books of essays: Calling: Essays on Teaching in the Mother Tongue, and Season of the Witch. She has also published many articles, poems and short nonfiction pieces. She has completed a book of essays on whiteness and teaching that she hopes to publish soon. She holds a BA from Northwestern University and a MA, PhD, from University of Virginia.
Dr. Griffin's teaching interests and responsibilities include women's literature, nineteenth-century British literature, creative nonfiction, and autobiography. Her reserach and writing are in those areas as well. She writes autobiographical essays and creative nonfiction, as well as literary scholarship. Most recently, she is very interested in the emerging field of Critical Whiteness Studies and is writing essays on the topic of whiteness and teaching.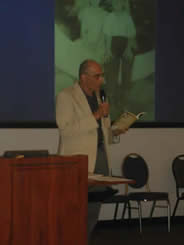 John Guzlowski
"What the War Taught My Mother"
 Writer & Pulitzer Prize Nominee
September 11, 2007
John was born in a refugee camp in Germany after World War II, and came with his parents Jan and Tekla and his sister Donna to the United States as Displaced Persons in 1951. His parents had been slave laborers in Nazi Germany. Growing up in the immigrant and DP neighborhoods around Humboldt Park Chicago, he met Jewish hardware store clerks with Auschwitz tattoos on their wrists, Polish cavalry officers who sitll mourned for their dead horses, and women who walked from Siberia to Iran to escape the Russians. His poems try to remember them and their voices. These poems have appeared in his chapterbook Language of Mules and in both editions of Charles Fishman's anthology of American poets on the HOlocaust, Blood to Remember. Recently retired from teaching American Literature, he is still writing about his parents. His new poems about them appear in his books Lightning and Ashes (Steel Toe Books, 2007) and Third Winter of War: Buchenwald (finishing Line Press). His book Third Winter War: Buchenwald was nominated this year for the Pulitzer Prize in Poetry.
What the War Taught Her
My mother learned that sex is bad,
Men are worthless, it is always cold
And there is never enough to eat .
She learned that if you are stupid
With your hands you will not survive
The winter even if you survive the fall.
She learned that only the young survive
The camps. The old are left in piles
Like worthless paper, and babies
Are scarce like chickens and bread.
She learned that the world is a broken place
Where no birds sing, and even angels
Cannot bear the sorrows God gives them.
She learned that you don't pray
Your enemies will not torment you.
You only pray that they will not kill you.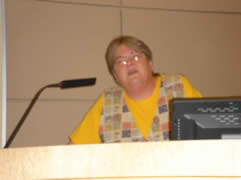 Dr. Mary Block
"Women & Rape in 19th Century State Appellate Court"
Assistant Professor of History
September 25, 2006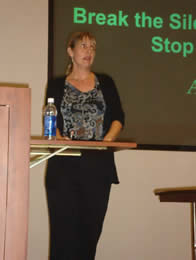 Alyx Kellington
"Break the Silence. Stop the Violence"
Photojournalist
October 26, 2006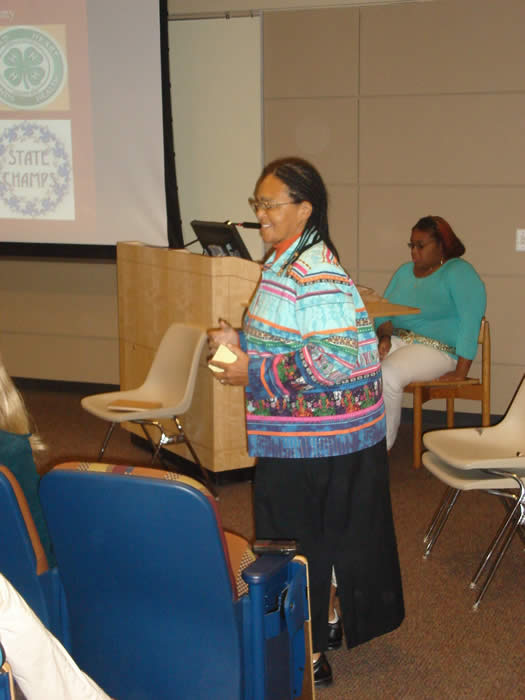 Velma Miles
"African American Women in S. GA: Segregation, Race Relations, & Farming Experiences"
Lowndes Co. Social Worker
November 6, 2006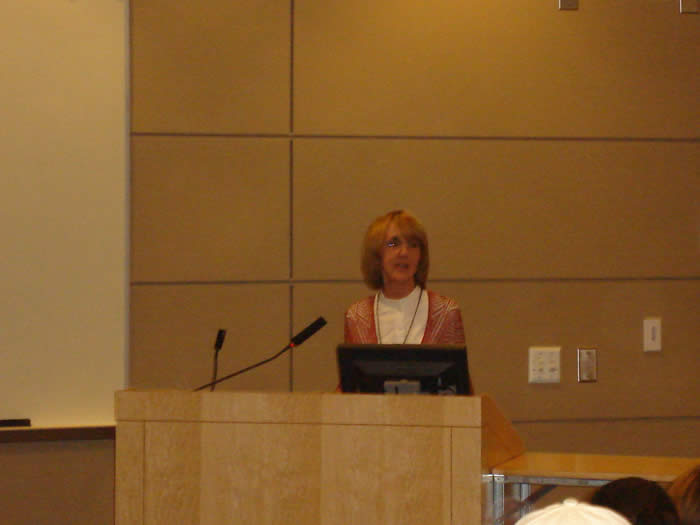 Dr. Cathy Oglesby
"U.S. Women's History as a Separate Discipline"
Professor of History
November 27, 2006
229.248.4865
Campus Address
Ashley Hall
1001 Ashley Hall
Valdosta, Georgia 31698
Mailing Address
1500 N. Patterson St.
Valdosta, GA 31698

Monday-Thursday 8:00am-5:30pm

Friday:  8:00am-3:00pm