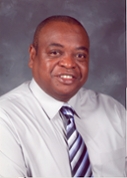 Mr. Anthony Paulino
ANTHONY J. PAULINO
Lecturer of Spanish
Modern and Classical Languages
 EDUCATION
B.Sc. in Secondary Ed. with a concentration in Spanish- Valdosta State University
M.P.A. - Valdosta State University
Ed. D. (candidate) Curriculum and Instruction (Degree expected 2014).
CERTIFICATIONS
 ESOL Certification (2005)
Research interests:
My research interest is the "Perceptions of Interactive White Boards in the Spanish (Foreign Language) Classroom." My dissertation will look at how teachers view the integration of interactive whiteboards in the teaching of a second language. At a later time I would like to study how this technology has aligned itself when it comes to applications and user friendly accommodations in regards to the teaching of a second language.
SOMETHING ABOUT MYSELF:
My name is Anthony Paulino. I am originally from Punta Gorda Town, in the Toledo District in the Country of Belize, which is the only English speaking country in Central America. We are nestled between the countries of Guatemala, Mexico, and the Caribbean Sea.  I attended an all Catholic, Middle and High School.  I taught Spanish at the Toledo Community College and Clave College extension, before migrating to the United States, in the pursuit of furthering my education. I love to listen to music, I play the guitar and I love to cook. 
The success of your dreams, are dependent upon your ability to pursue them!
                                                                                                                  Anthony J. Paulino
229.333.7416
Campus Address
1306 West Hall
Mailing Address
1500 N. Patterson St.
Valdosta, GA 31698

Monday to Thursday
8:00 a.m. to 5:30 p.m.
Friday
8:00 a.m. to 3:00 p.m.