Contact

  229-245-4357


  229-245-4349

Campus Address
Odum Library 2nd Floor (Next to Circulation Desk)
1500 N. Patterson St.
Valdosta, GA 31698
Mailing Address
1500 N. Patterson St.
Valdosta, GA 31698
Contact

  229-245-4357


  229-245-4349

Campus Address
Odum Library 2nd Floor (Next to Circulation Desk)
1500 N. Patterson St.
Valdosta, GA 31698
Mailing Address
1500 N. Patterson St.
Valdosta, GA 31698
Unblocking Senders
Symptoms:
 E-mails from a particular address never appear in Outlook
Cause:
The user may have been blocked accidentally by the user or by security settings in Microsoft Outlook 2010.
Step 1:
Open Microsoft Outlook.
Step 2:
On the Home tab, in the Delete group, click the Junk drop down menu.
Then, click the Junk E-mail Options… link.
.
Step 3:
Select the Blocked Senders tab.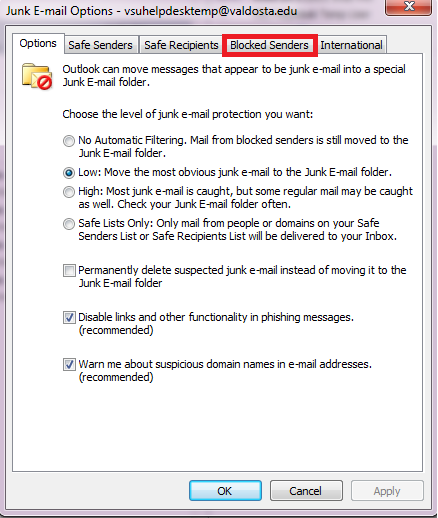 Step 4:
Select the email you wish to unblock.
Then, click the Remove button,
Finally, click the Apply button.
Congratulations!
You have successfully unblocked senders in Microsoft Outlook 2010.
If you have problems when trying these instructions, or if you have other questions concerning your VSU e-mail account, please contact the Information Technology Helpdesk at 229-245-4357 or send an e-mail to helpdesk@valdosta.edu.
Please note that our work request system can only accept emails sent from a VSU email address.
Contact

  229-245-4357


  229-245-4349

Campus Address
Odum Library 2nd Floor (Next to Circulation Desk)
1500 N. Patterson St.
Valdosta, GA 31698
Mailing Address
1500 N. Patterson St.
Valdosta, GA 31698