Setup Email on an Iphone
Step 1:
Go to your Settings.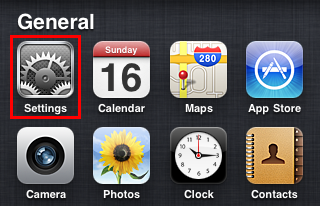 Step 2:
Click Mail, Contacts, Calendars.
Step 3:
Select Add Account...
Step 4:
Select Microsoft Exchange.
Step 5:
Enter the appropriate information into each of the following fields:
Email: Enter your entire e-mail address.
Domain: Leave this field blank.
Username: Enter your entire e-mail address.
Password: Enter your e-mail password.
Then, click the Next button.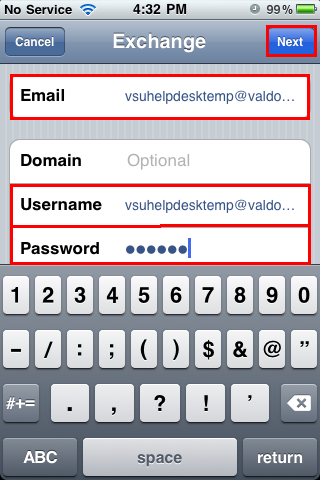 Step 6:
Make sure that all of the information is correct.
Server: the server should automatically be set to outlook.office365.com, if not, enter in the information manually.
Description: Enter a Description for you to identify which account it is.
Then click Next.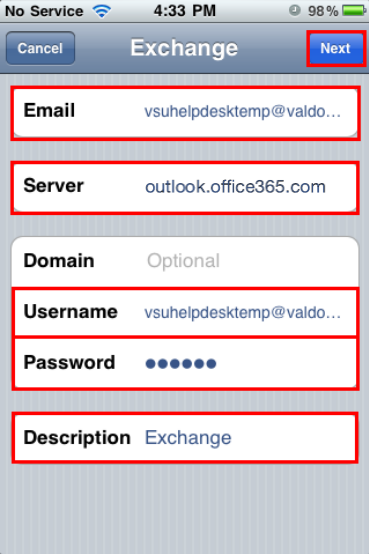 Step 7:
Choose whether or not you wish to synchronize your mail, contacts, and calendars to your iPhone.
Note: Be aware that if you synchronize your contacts or calendars from your Office 365 account, they will erase existing contacts and calendars stored on your iPhone. We recommend a backup through iTunes prior to synchronization.
Congratulations! You have successfully setup your e-mail account on your iPhone.
If you have problems when trying these instructions, or if you have other question concerning your Office 365 email account, please contact the Information Technology Helpdesk at 229-245-4357 or send an e-mail to the Helpdesk .
Please note that our work request system can only accept emails sent from a VSU email address.