Setup Email on Ipad
Note:
If you are doing these steps on campus, you will need to be connected to VSU Wirless before attempting this process. 
Step 1:
Click the Mail icon.
Step 2:
Click Microsoft Exchange.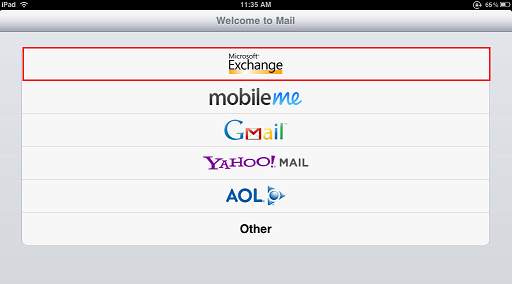 Step 3:
Enter the appropriate information into each of the following fields:
Email: Enter your entire e-mail address.
Domain: Leave this field blank.
Username: Enter your entire e-mail address.
Password: Enter your e-mail password.
Description: Enter a Description for you to identify which account it is..
Then, click the Next button.
Note: Your device will attempt to verify your connection. Please be patient, as this process could take 5-10 minutes.
Step 4:
The Server field should appear. It should contain the value outlook.office365.com. If it does not, modify it so that it does.
Then, click the Next button.
Step 5:
Turn contact and calendar synchronization On or Off based on your needs.
Then, click the Save button.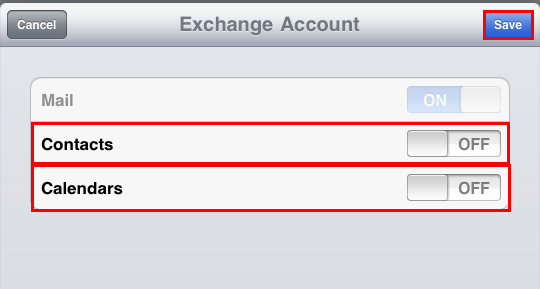 Step 6:
You will now be asked to choose if you would like to keep your Local Calendars on you Ipad, or delete them. You may do either, but be aware that if you delete them they will no longer be available anywhere on your Ipad, and if you choose to keep them, it my create a few duplicate entries.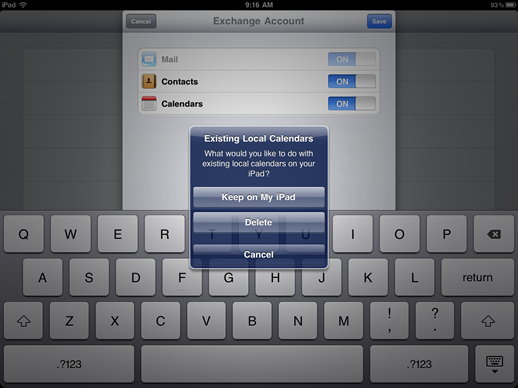 Step 7:
Once you have set up your account, return to the home screen and click the Mail icon to access it.
Step 8:
You may now choose the range of time the Ipad will sync previous messages for. To do this select your VSU e-mail account from the e-mail settings.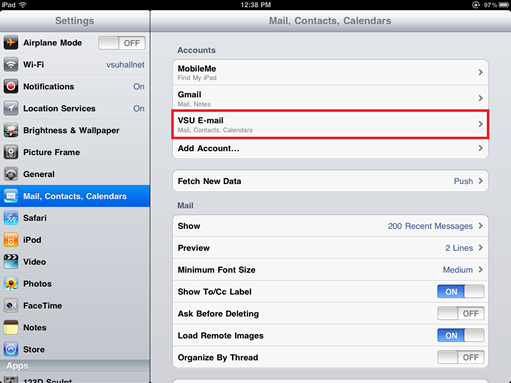 Step 9:
In the Exchange window, you will now select Mail Days to Sync.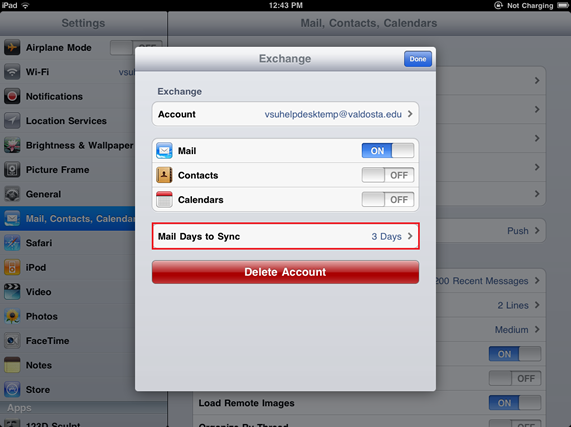 Step 10:
You can now select the range of time you would like your e-mails to for. (We recommend not selecting more than one month, as the amount of data this will download can be prohibitive).
Step 11:
Once you have selected the Mail Days to Sync, select VSU E-mail in the top left of the active Screen.
Step 12:
Click Done in the top right hand corner of the active screen.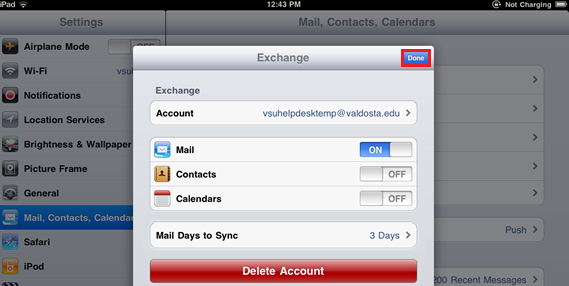 Step 13:
Next, Select Fetch New Data.
Step 14:
Then, switch Push to Off, followed by selecting Advanced.
Step 15:
Then, select an account.
Step 16:
Select the Manual option.
Repeat this for every account listed in Step 15.
Congratulations!
Congratulations! You have successfully setup your e-mail account on your iPad.
If you have problems when trying these instructions, or if you have other question concerning your Windows Live email account, please contact the Information Technology Helpdesk at 229-245-4357 or send an e-mail to the Helpdesk .
Please note that our work request system can only accept emails sent from a VSU email address.