Clearing Auto-Complete (MRU) Lists in Outlook 2010
Symptoms:
When you attempt to send an e-mail, you receive a reply from Microsoft Outlook stating that the message was undeliverable due to the fact that the e-mail address you entered couldn't be found.
Cause:
Microsoft Outlook stores a list of address you have recently sent e-mail to in a list called an auto-complete or MRU (Most Recently Used) list. The purpose of this list is to allow you to send additional e-mails to these recipients in a more efficient manner. However, outdated or incorrect addresses could become stored in the MRU List on your computer, causing you to send e-mails to the wrong address. When this occurs, Microsoft Outlook will notify you with a reply e-mail similar to the one shown above.
In order to resolve this issue, you will need to delete the bad entry and re-enter the e-mail address into Outlook. You should be able to do so using the steps listed below:
Step 1:
Click the New E-mail button.
Step 2:
Begin typing the e-mail address you were attempting to send the e-mail to. As you type the address, a beige pop-up will appear, displaying the full address click the X icon on this pop-up.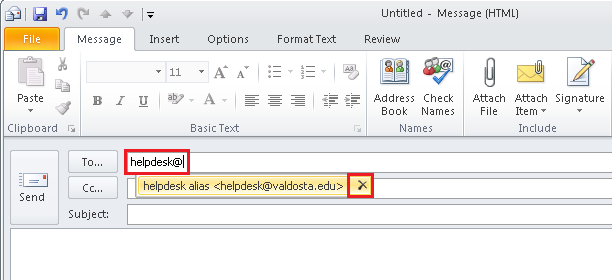 Step 3:
Retype the full e-mail address.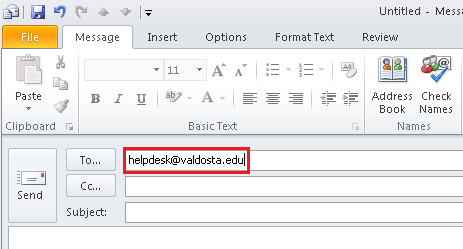 Step 4:
If the user is in the VSU e-mail directory, the e-mail address will be converted into the recipient's full name.
Congratulations! You have successfully cleared a bad entry from your auto-complete (MRU) list. If this does not correct the issue, please contact the VSU IT Helpdesk at helpdesk@valdosta.edu or at 229-245-4357.
Please note that our work request system can only accept emails sent from a VSU email address.