Setting up Office 365 on Apple Mail
Note: This guide is designed specifically for setting up Office 365 in Apple Mail
Step 1:
Open Apple Mail.
Step 2:
Enter the appropriate information in the following fields:
Full Name: Enter the name you wish to have displayed on your outgoing e-mails.
Email Address: Enter your full VSU e-mail address.
Password: Enter your VSU e-mail password.
Finally, click the Continue button.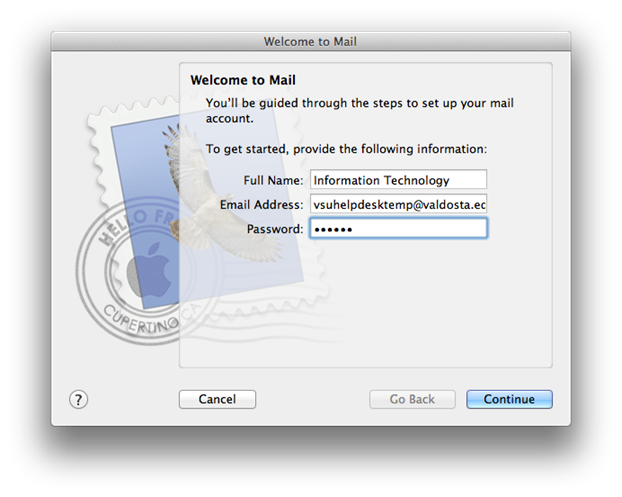 Step 3:
Make sure the checkboxes in front of the following entries are marked:
Then, click the Create button.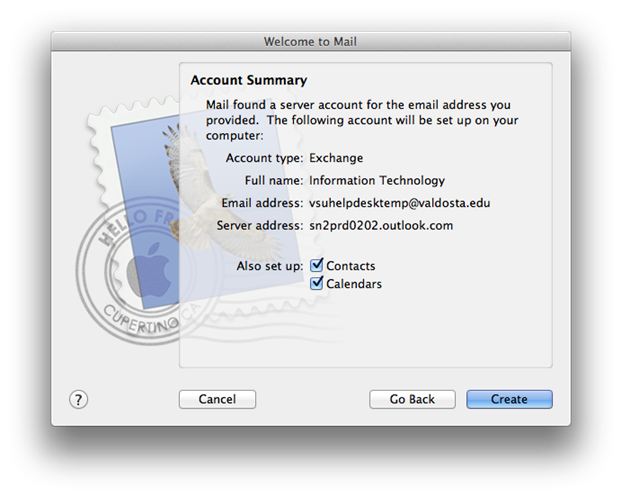 Step 4:
Finally, you will be taken to your Inbox.
Step 5:
On the Menu bar, select Mail and then Preferences.
Step 6:
A window titled Accounts will open. On the Account Information tab, under Outgoing Mail Server, use the drop down menu to select Edit SMPT Server List.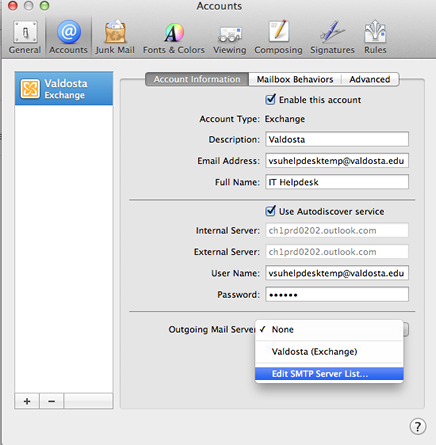 Step 7:
In this window, click the plus sign to add an additional server. On the Account Information tab, enter the appropriate information for the following fields:
Description: Exchange
Server Name: outlook.office365.com
Step 8:
Click the Advanced tab. Make sure that Use default ports and Use Secure Sockets Layer is selected. Additionally in Authentication, make sure thatPassword is selected. Enter the appropriate information in the corresponding fields:
User Name: Enter your VSU email address.
Password: Enter your password for your VSU email account
Finally, click ok.
Step 9:
You should be back on the Accounts window; Exchange should be the Outgoing Mail Server. Make sure that the option Use only this server is selected. Close the Accounts window, and select Save the changes made.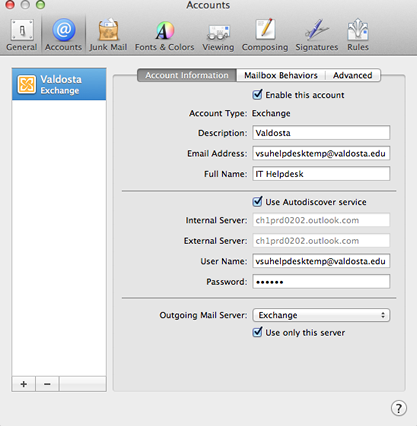 You should now be able to send and receive your VSU email through the Apple Mail tool.
Congratulations!
Congratulations! You have successfully setup your e-mail account on Apple Mail.
If you have problems when trying these instructions, or if you have other question concerning your Windows Live email account, please contact the Information Technology Helpdesk at 229-245-4357 or send an e-mail to the Helpdesk .
Please note that our work request system can only accept emails sent from a VSU email address.