Adding @VALDOSTA.EDU to the Safe Senders List in Outlook 2010
Symptoms:
Mail from Valdosta State University e-mail addresses is being sent to your Junk Mail folder.
Cause:
While we recommend Outlook as an e-mail client, we do not run a university-specific version of Outlook 2010. Thus, Outlook 2010 will treat mail from VSU e-mail addresses like e-mail from non-VSU e-mail address. Thus, it applies the same junk mail filter rules, such as filtering for short e-mails or e-mails without titles, to e-mail from VSU addresses. To prevent this from occuring, please take the steps listed below:
Step 1:
Open Microsoft Outlook.
Step 2:
Click on the Home ribbon.
Then, click the drop-down arrow next to Junk.
Finally, click Junk E-mail Options in the drop-down menu that appears.
Step 3:
The Junk E-mail Options window will appear.
Click the Safe Senders tab.
Then, click the Add... button.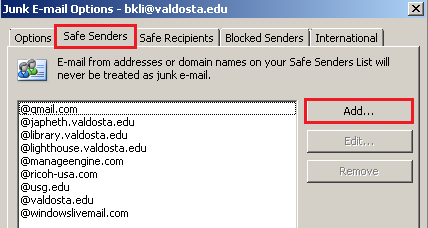 Step 4:
Type @valdosta.edu into the field that appears.
Then, click the OK button.
Step 5:
Click the OK button.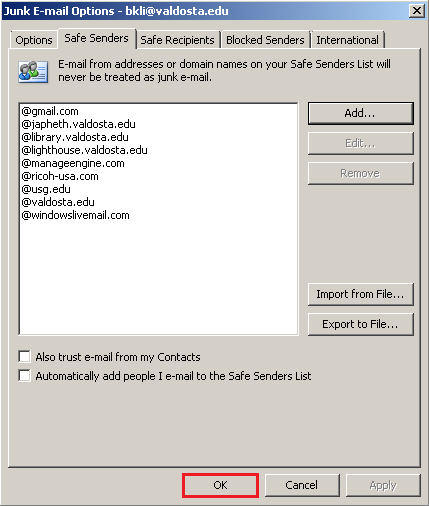 Congratulations!
You have successfully added the @valdosta.edu domain to your Safe Senders list. This will ensure that e-mail from Valdosta State University e-mail addresses will not be accidently placed in your Junk Mail folder.
If you have problems when trying these instructions, or if you have other questions concerning your VSU e-mail account, please contact the Information Technology Helpdesk at 229-245-4357 or send an e-mail to helpdesk@valdosta.edu.
Please note that our work request system can only accept emails sent from a VSU email address.