Contact

  229-245-4357


  229-245-4349

Campus Address
Odum Library 2nd Floor (Next to Circulation Desk)
1500 N. Patterson St.
Valdosta, GA 31698
Mailing Address
1500 N. Patterson St.
Valdosta, GA 31698
Contact

  229-245-4357


  229-245-4349

Campus Address
Odum Library 2nd Floor (Next to Circulation Desk)
1500 N. Patterson St.
Valdosta, GA 31698
Mailing Address
1500 N. Patterson St.
Valdosta, GA 31698
Report a Printing Incident
Step 1:
To access VSU Service Desk, please click here.
Step 2:
Click on the button labeled Log Into VSU Service Desk.

Step 3:
Enter in your Active Directory username and password.
Click the Log on button.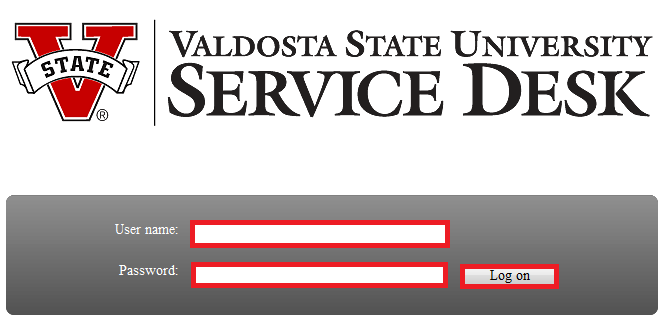 Step 4:
Highlight the IT Helpdesk Forms located on the left hand side of the page.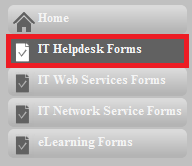 Step 5:
Click on theXerox Printing Incident Report Form link.

Step 6:
Fill in the appropriate information.
Step 7:
After you have filled in the appropriate information, click Save and close.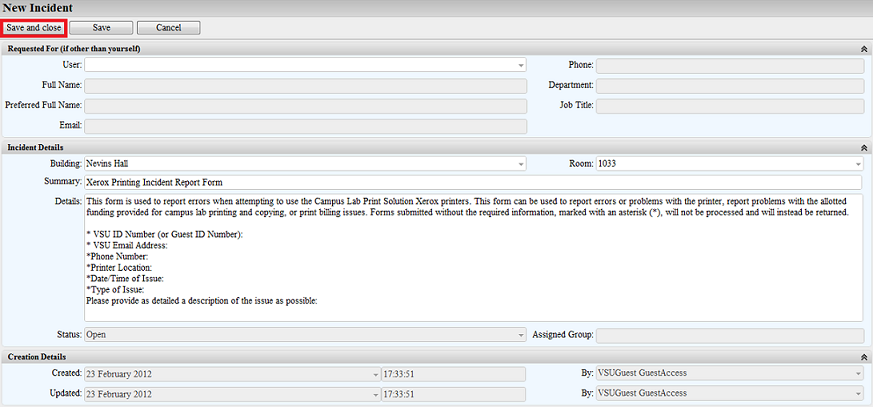 Congratulations! You have successfully submitted a Xerox Printing Incident Report Form
If you encounter issues following these steps, please contact the IT Helpdesk at (229) 245-4357 or e-mail us from your VSU e-mail address at helpdesk@valdosta.edu. Please note that our work request system can only accept emails sent from a VSU email address.
Contact

  229-245-4357


  229-245-4349

Campus Address
Odum Library 2nd Floor (Next to Circulation Desk)
1500 N. Patterson St.
Valdosta, GA 31698
Mailing Address
1500 N. Patterson St.
Valdosta, GA 31698