Importing Bookmarks in Internet Explorer
Step 1:
Find the Internet Explorer icon on the Desktop and double-click on it.

Or click on Start, go to All Programs, and click on Internet Explorer.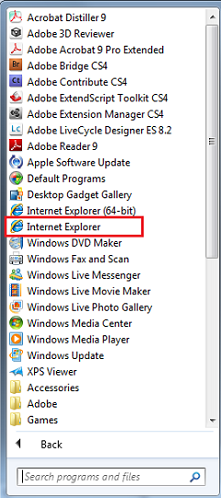 Step 2:
After Internet Explorer opens, click on File. Then click on Import and Export.
Step 3:
The Import/Export Wizard will appear. Click the Next button.
Step 4:
The Import/Export Selection menu will appear. Select the Import Favorites option. Then click the Next button.
Step 5:
At the Import Favorites Source menu, click the Browse button.
Step 6:
This will open a new window. Click on the location where you previously saved your bookmarks. Find the file titled bookmark.htm and click on it. Then click Save.
Step 7:
You will now be back at the Import/Export Wizard. Click Favorites. Then click Next.
Step 8:
In order to finish importing your bookmarks, press Finish.
Step 9:
A smaller window will open when the process is complete. Click OK.
Congratulations!
You have successfully imported your bookmarks into Internet Explorer.
If you have problems when trying these instructions, or if you have other questions, please contact the Information Technology Helpdesk at 229-245-4357 or send an e-mail to helpdesk@valdosta.edu. Please note that our work request system can only accept emails sent from a VSU email address.