APEX Connection Issues (Internet Explorer)
Issue:
If you get an, "Internet Explorer Cannot Display the Webpage" error when loading a web page starting with apex.valdosta.edu, these steps will fix the issue for you.
Step 1:
Click the Tools menu.
Then, click the Internet Options link.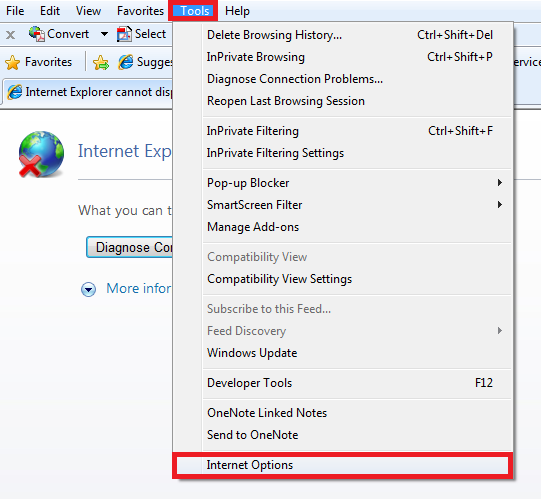 Step 2:
Click on the Advanced tab.
Then scroll down to the checkbox Use TLS 1.0 and ensure the box to the left is checked.
Finally, click the OK button.
Step 3:
Close out your Internet Explorer windows and relaunch Internet Explorer. Once you navigate to the apex.valdosta.edu/ page, it should load properly!
Congratulations!
You have successfully enabled TLS 1.0 in Internet Explorer!
If you have problems when trying these instructions, or if you have other questions, please contact the Information Technology Helpdesk at 229-245-4357 or send an e-mail to helpdesk@valdosta.edu. Please note that our work request system can only accept emails sent from a VSU email address.