Performance Management: Introduction
Valdosta State University is moving to a new staff and administrative performance management process for the 2016-2017 cycle year where by which employees understand the impact their contributions have on the achievement of University goals and are provided the opportunity for ongoing professional growth.
Why the change?
The current performance evaluation had not undergone any major change in over 20 years.
Challenges expressed from supervisors and employees indicated it was time for change. (i.e. rating scale, lack of emphasis on development, lack of linking to job specific duties, organizational goals and initiatives)
Research of best practices indicated current performance system needed adjustments in several key areas.
What are the benefits of this change?
By linking individual employee work efforts with the organization's goals and initiatives, the employee and the organization both understand how that specific job contributes to the organization.
By focusing attention on setting clear performance expectations, it helps the employee know what needs to be done to be successful in a particular job.
The use of goal-setting, establishing competencies, job duty reviews, and other measures helps to focus individual and collaborative efforts. This helps the department accomplish what needs to be done and provides a solid rationale for eliminating work that is no longer useful.
Regular check-in discussions, which include status updates, coaching, and feedback, promotes flexibility, allowing supervisors and the employees to identify problems early and change the course of a project or work assignment.
By emphasizing that an annual review should simply be a summary of the conversations held between a supervisor and an employee during the entire cycle, shifts the focus away from viewing performance as an "annual event" to performance as an "on-going process".
An effective performance management process, while requiring time to plan and implement, can save you and the employee time and energy. Most importantly, it can be a very effective motivator, since it can help you and the employee achieve organizational success
What is changing?
The new Valdosta State University Performance Management cycle consists of 3 phases: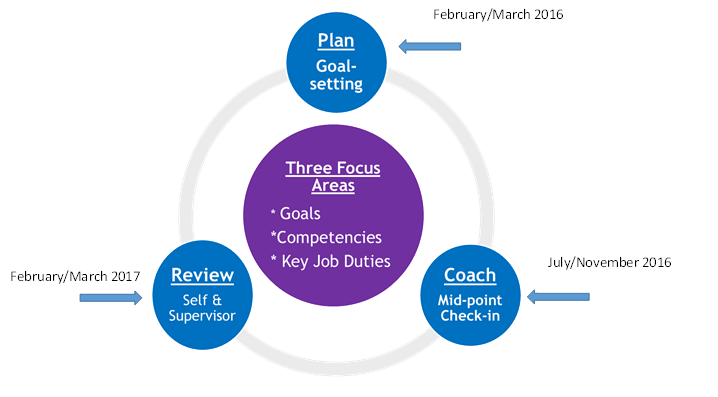 As a cycle that continues throughout the year, effective performance management aligns the efforts of managers/supervisors and employees with department and campus goals, promotes consistency in performance reviews, and motivates all employees to perform at their best. The process should be conducted with fairness and transparency.
The campus administration, the manager/supervisor, and the employee form a partnership that ensures performance planning, coaching, development, and assessment.
Faculty and staff managers/supervisors are responsible for developing performance expectations with the participation of employees; communicating throughout the performance management cycle about employees' goals, performance, and development; recognizing successful performance and coaching for improved performance; and supporting employees to define the tools, resources, and training and development needed to carry out their duties successfully.
Employees at all levels are responsible for actively communicating with their managers/supervisors about performance, taking an active role in planning their development, being accountable for their actions, and continually striving for excellence in their performance in support of departmental and campus goals and initiatives.
Old Verses New Process:
| | |
| --- | --- |
| Old | New |
| Performance categories, no behavioral indicators defined, or direct linkage to job specific duties                                                                                    | Core and Leadership competencies defined with behavioral examples of performance levels. Job specific duties included based on essential duties defined on Position Description |
| Word Document  | Online process -PeopleAdmin Performance Management Module |
| No support tools | Online progress notes. Training material available online to enhance competencies. |
| No direct linkage to organizational/unit goals | Performance goals provide a direct link to strategic goals and initiatives  |
| Limited focus on professional development | Development goals a formal part of the process |
| No formal two-way communication | Self-assessment & goal setting process added |
| No formal on-going feedback | Mid-Point Check-in added, and on-going feedback encouraged |
| Rating scale labels not contributing to normal bell-shaped curve | Rating scale labels more conducive to accurate representation of performance levels |
The information in this section of our website will help you and your employees move through the three phases of the performance management cycle: Plan, Check-in, and Review. Additionally, you will find resources on using the new online program, understanding new terminology and general tips and techniques to ensure a value-added performance management experience.
To learn more:
229.259.5030
Campus Address
University Center Bldg III
1205 N. Patterson Valdosta, GA 31698
Mailing Address
1500 N. Patterson St.
Valdosta, GA 31698