News and Events
Blazer Books Fall 2016
Pictured: (left to right) Dr. Kelli Brown, Interim President, Anca Garcia, Fall 2016 Blazer Books Award recipient, and Brandon Mainer, COSA Chair-Elect. 
Employee of the Semester Fall 2015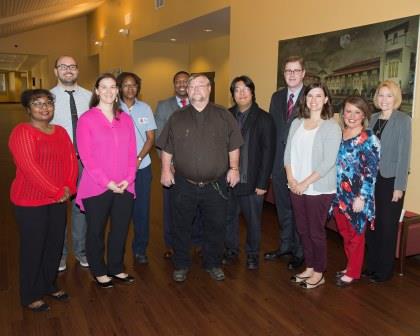 Pictured: Winners and nominees of fall semester's Employee of the Semester Awards, with Dr.Staton, President, Keith Warburg, COSA Chair, and Dr. Denise Bogart, Director of HR.
Upcoming Events
Employee Appreciation Lunch
Come out and enjoy lunch with us on April 10, 2017 from 11:00 a.m. to 2:00 p.m. in the UC Magnolia Room. More details coming soon.
Wild Adventures Day
On May 27, 2017. More details coming soon.
Campus Address
1215 N. Patterson St., Valdosta, GA 31698
Mailing Address
1500 N. Patterson St.
Valdosta, GA 31698