Contact

Circulation


  229-333-5869

Reference Services


  229-333-7149

Administrative Office


  229-333-5860

Main Fax


  229-259-5055

Campus Address
1500 N. Patterson St. Valdosta, Georgia 31698
Mailing Address
1500 N. Patterson St.
Valdosta, GA 31698
Contact Us
Contact

Circulation


  229-333-5869

Reference Services


  229-333-7149

Administrative Office


  229-333-5860

Main Fax


  229-259-5055

Campus Address
1500 N. Patterson St. Valdosta, Georgia 31698
Mailing Address
1500 N. Patterson St.
Valdosta, GA 31698
Contact Us
ProQuest Database Tips
This is the front page for all ProQuest databases, also known as the Advanced Search page. You can add extra rows below the search boxes. In the"Limit to:" section, you can refine your search even further.
Think of each search box as a concept - if you have alternative terms for your concept, connect them by using "OR."  In this example, we are looking for weight lifting, but we also included "weight training" by using "or." Note that these two concepts are connected by using "AND" in the menu - "AND" means that both connected terms need to be in each search result. To the right hand side, there are many more searching options, including a thesaurus for subjects and a way to search within a subject area.
This is the ProQuest Search Results List page. On the left hand side, you can see the results list, along with many options. You can also add items to your personal ProQuest account folders, email citations, get citations for each item in a certain style, and export them to a citation manager such as RefWorks or EndNote.
To the right side, there are many filtering options, including different ways to sort the list and narrow results by type, subject, location, etc. There is also a publication date slider that includes the number of documents in the list by decade.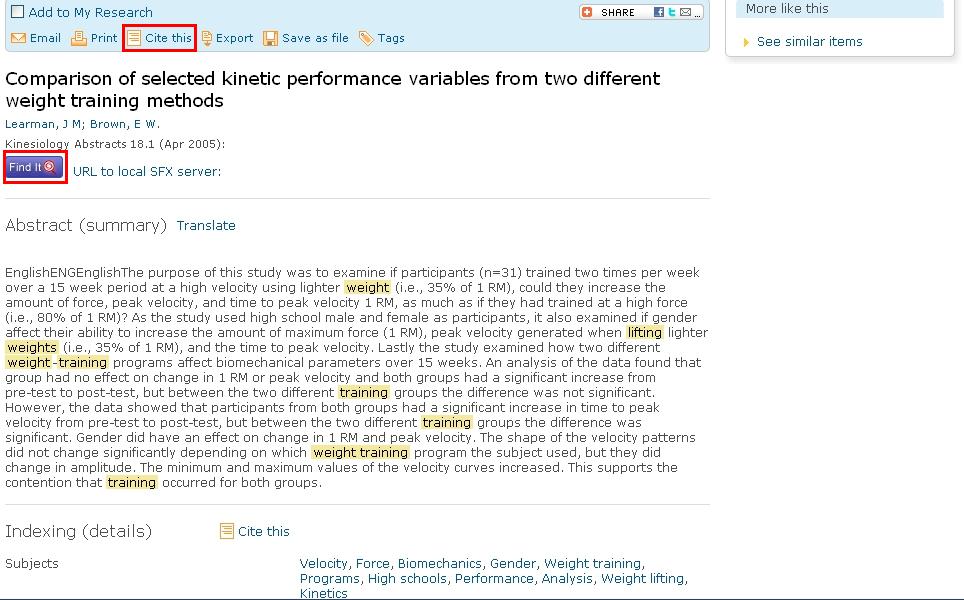 This is a view of a full citation for a journal article. There are options to email, print, export, save, and tag the citation.  The Cite This button puts the journal citation in a certain style automatically. If an article is not available in full-text in this database, the Find It button is located here - click on it to search throughout VSU's electronic and print holdings, or order the article through Interlibrary Loan.
There is a Share button that lets you share the article with other researchers through other applications. More Like This displays articles related to the current article.
Contact

Circulation


  229-333-5869

Reference Services


  229-333-7149

Administrative Office


  229-333-5860

Main Fax


  229-259-5055

Campus Address
1500 N. Patterson St. Valdosta, Georgia 31698
Mailing Address
1500 N. Patterson St.
Valdosta, GA 31698
Contact Us