Contact

Circulation


  229-333-5869

Reference Services


  229-333-7149

Administrative Office


  229-333-5860

Main Fax


  229-259-5055

Campus Address
1500 N. Patterson St. Valdosta, Georgia 31698
Mailing Address
1500 N. Patterson St.
Valdosta, GA 31698
Contact Us
Contact

Circulation


  229-333-5869

Reference Services


  229-333-7149

Administrative Office


  229-333-5860

Main Fax


  229-259-5055

Campus Address
1500 N. Patterson St. Valdosta, Georgia 31698
Mailing Address
1500 N. Patterson St.
Valdosta, GA 31698
Contact Us
EBSCOhost Overview
ebooks on EBSCOhost (formerly netLibrary)
E-book Database: ebooks on EBSCOhost  
Loan Period:  EBSCOhost eBooks can be viewed or borrowed as long as the e-book is not being used by another individual.  The standard limit is one user at a time, but some books allow two simultaneous users.  If an EBSCOhost e-book is being read by another user, you'll receive a message that the e-book is in use and cannot be accessed until the current user is done (that could take minutes or days).  If this is the case, you should be given the option of "placing a hold" on the book through your 'free' profile account (that you may then need to create) so that you will be notified when the e-book is available.  Whenever an e-book of interest isn't available do check the the GIL-Find@VSU Odum Catalog or consider placing a GIL Express or ILLiad request to obtain the title in print, or use the "Live Chat" to consult a Reference Librarian about these and other options. 
Ebooks on EBSCOhost account:  With a 'free' My EBSCOhost account, you can take advantage of the following features:
Designate a list of favorites
Make notes in individual e-books
Place holds on in-use e-books
Customize your account preferences
You do not need to create an account to view e-books online.
To create a My EBSCOhost account:
You can create an account from any EBSCOhost database or going to Advanced Search in Discover.
Click on Sign In
Click on Create a new Account
Complete the fields on the Create a New Account screen and then click the "Save Changes" button.  If all the information is accepted, a message displays informing you that your account has been created.
Click Continue to complete the account creation and log in to your account.  When you are  logged in your first name will appear above Sign Out on the top blue bar.
Downloading:  The following instructions will work for any e-reader that supports Adobe Digital Editions.  All Android® e-readers, such as Sony®, Nook®, etc. support Adobe Digital Editions directly. iPads support Adobe Digital Editions through third-party apps, such as BlueFire and 'txtr readers.  (Use the Live Chat button if you need help with any of these steps)
Set up a My EBSCOhost account (Click on "Sign in" at the top of any EBSCOhost page) 
Set up a 'free'  Adobe ID account  (if you don't already have one).
Install the free Bluefire Reader or 'txtr app on your Apple or Android device. 
Enter your Adobe ID information.
Mobile:  EBSCOhost Mobile Applications - iPhone and Android or read "Downloading Ebooks"
Limit Searches:  To "Full Text" or  "Download Available"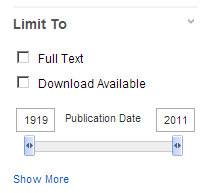 Help: Link to "Help" in top right corner of ebooks on EBSCOhost database
Contact

Circulation


  229-333-5869

Reference Services


  229-333-7149

Administrative Office


  229-333-5860

Main Fax


  229-259-5055

Campus Address
1500 N. Patterson St. Valdosta, Georgia 31698
Mailing Address
1500 N. Patterson St.
Valdosta, GA 31698
Contact Us