My GIL Account Password & PIN Help
When you want to find the Galileo Password, check the due dates for your checked-out items, renew items online, or check the status of your GIL Express orders, you will want to log in to your library account.
Selecting MyLibrary on the Library's Website and then My GIL Account in the left menu of links leads to the below pictured GIL-Find@VSU Login screen.  
Enter your your 9-digit VSU Identification Number (VSU ID Number) that begins with 87.  If you are reading your 87 number from your ID card, do not include the last separated digit on the right.   That number shows how many cards that the 1card office has issued to you, and it is not part of your ID number.
In the second box, type in your last name.
In the third box, if you do not yet have your PIN, click the "Get My PIN" button.  You will get an email through your VSU email address with a temporary PIN.  Be sure to check your Junk Mail folder if you cannot find it in your Inbox.
When you get the PIN, type it into the third box, and then click "Login."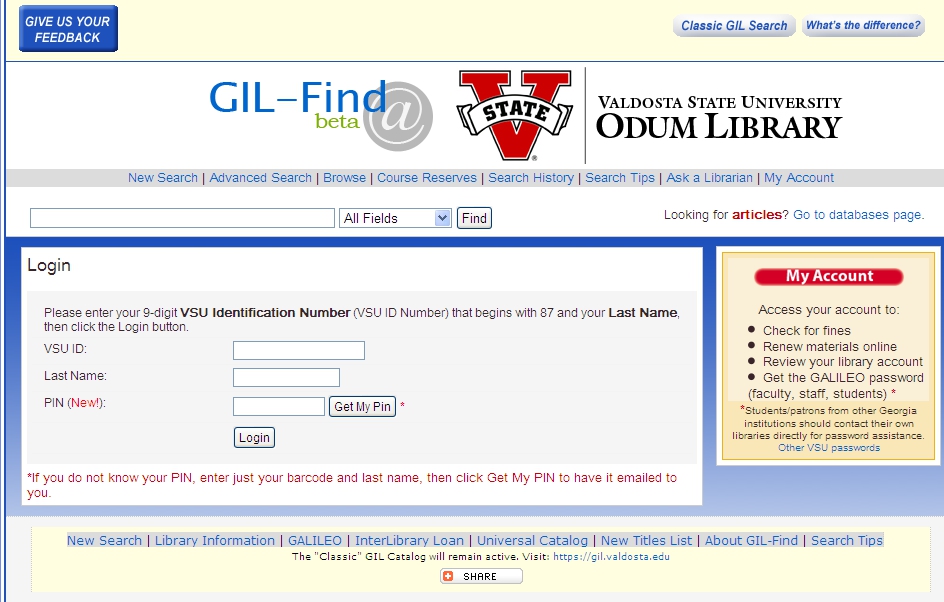 On the next page, look at the options on the right side.  You can view the VSU GALILEO Password, your favorited items, Checked Out Items, Holds and Recalls, Fines, your Library Profile, which appears when you log in, and Your Saved Searches. 
To change your temporary PIN to a new PIN, click "Change PIN" on the Library Profile page. Put in the Old PIN first, then the New PIN that you want.  Keep in mind that Library PIN's can be five to eight letters or numbers long. After you click "Submit," the next screen will confirm that you have made your own PIN.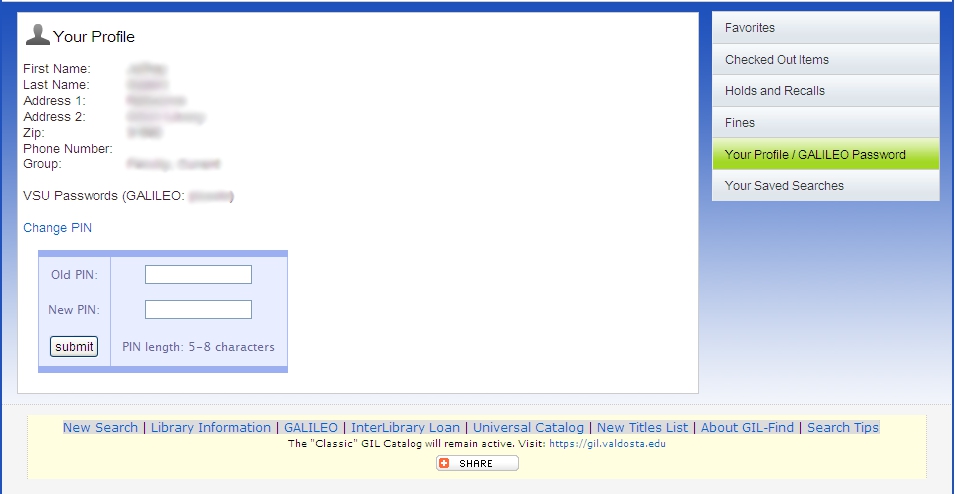 If you prefer using the Classic GIL Catalog, click the "Access my GIL Account to:" link in the lower right-hand box.  Keep "Home Institution" as it is, put in your VSU ID number in the "Patron Barcode" box, your PIN in the third box, and your last name in the fourth box.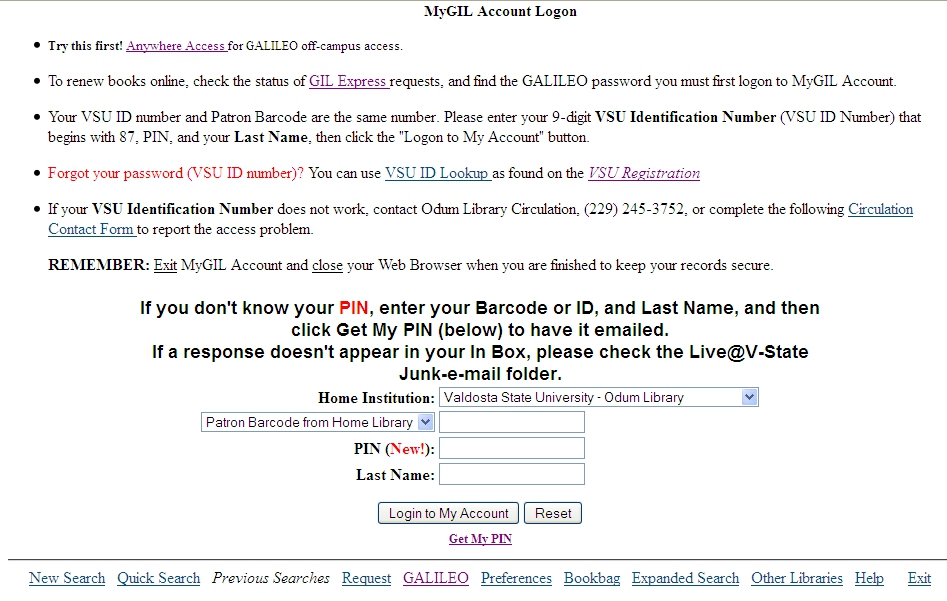 If you do not have your PIN, put in your VSU ID number, your Last Name, and then click the "Get My PIN" link under the "Login to My Account Button."  You will get your PIN using the same valdosta.edu email process as described in the GIL-Find section.  Once you have your PIN, enter it in the third box, and click "Login to My Account" to access your account.
For more detailed information, see the PIN FAQ.
Circulation
Reference Services
Administrative Office
Main Fax
229.259.5055
Campus Address
1500 N. Patterson St. Valdosta, Georgia 31698
Mailing Address
1500 N. Patterson St.
Valdosta, GA 31698