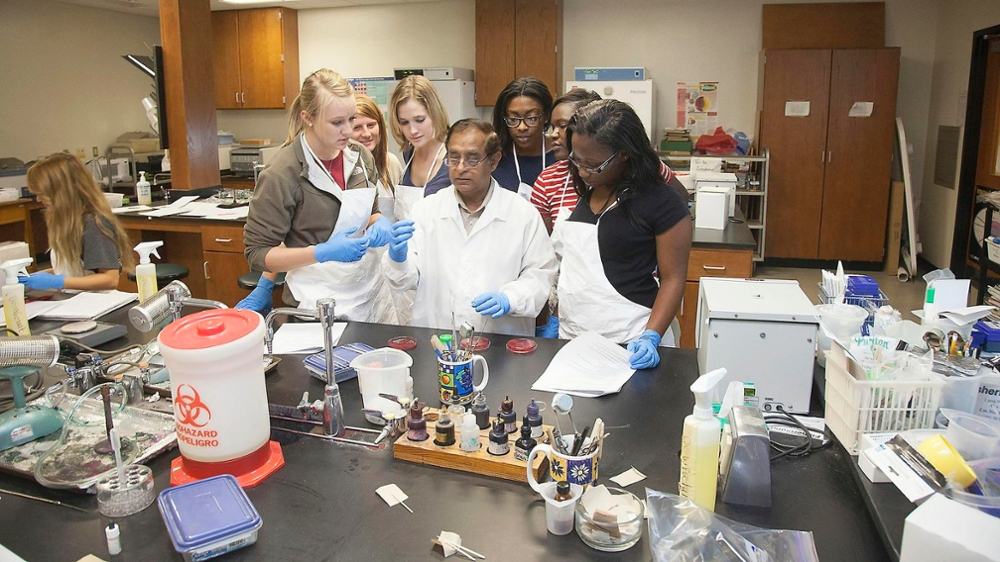 Welcome to Undergraduate Research Council
What is it:
The Undergraduate Research Council of Valdosta State University invites undergraduate students to showcase their research, scholarship, and creative activities to the VSU community at the Twenty-third Annual Symposium on Undergraduate Research to be held on April 10-13, 2017. The purpose of the symposium is to provide students an opportunity to share research papers, laboratory experiments, field projects, creative performances, visual art works, or independent study projects, both completed or in-progress, between Spring Semester 2016 and Spring Semester 2017.  Papers may be considered for publication in OMNINO, the VSU undergraduate research journal. 
How to participate:
Students must submit by email a one-page typed abstract (150 word limit) for a poster session, oral presentation, or creative performance/exhibition to their department or program representative. Directions and examples for the preparation of abstracts can be found at: http://www.valdosta.edu/urc/
Students are responsible for completing an electronic version of the student information form at http://studentinformationform.weebly.com/ This weblink will be active in early February 2017 for student submissions. 
Council representatives will submit the abstracts from their respective departments or programs by email to the symposium coordinator, Dr. James LaPlant (jlaplant@valdosta.edu).  Council representatives should note if the abstract is for a poster session, oral paper presentation, or creative performance/exhibition.  Students will submit the student information form through the Undergraduate Research Council website.
Examples of abstracts:
Directions and examples for the preparation of abstracts can be found here.
Student Information Form:
Students are responsible for completing the student information form once the abstract is approved by a department or program:
http://studentinformationform.weebly.com/
Important Due Dates:
Abstracts to Department or Program Representatives: 2/24/17                                       
URC Representatives send Abstracts to the Symposium Coordinator and Students Complete the online Student Information Form: 3/3/17
Notification to Students Selected to Participate in the Symposium: 3/3/17
PDFs of Posters to Departmental or Program Representatives for Publication after the Symposium: 5/1/17    
Council Representatives for the Undergraduate Research Symposium for 2017:
African American Studies

Dr. Tom Aiello

Art

Dr. Glenda Swan

Biology

Dr. Timothy Fort

tjfort@valdosta.edu

Chemistry

Dr. Yakov Woldman

ywoldman@valdosta.edu

Communication Arts

Dr. Michael Eaves

Communication Sciences & Disorders & Special Education

Dr. Jade Coston

Computer Science

Dr. Anurag Dasgupta

adasgupta@valdosta.edu

Elementary Education

Dr. Lucia Lu

English

Dr. Ubaraj Katawal

ukatawal@valdosta.edu

History

Dr. Mary Block

Honors College

Dr. Michael Savoie

Kinesiology and Physical Education

Dr. Matthew Grant

Langdale College of Business

Dr. Zulal Denaux

Library

Ms. Emily Rogers

Mathematics

Dr. Jemal Mohammed-Awel

Middle, Secondary, Reading & Deaf Education

Dr. Robert Spires

Modern and Classical Languages

Dr. Karen Acosta

Nursing & Health Sciences

Mr. Scott O'Quinn

Philosophy, Religious Studies & Native American Studies

Dr. Lavonna Lovern

Physics, Astronomy, Geosciences & Engineering Studies

Dr. Barry Hojjatie

Political Science

Dr. Marc Pufong

Psychology

Dr. Jennifer Breneiser

Sociology, Anthropology & Criminal Justice

Dr. Fred Knowles

Women's and Gender Studies

Dr. Anne Price
Don't see your department or program listed? Please contact Dr. James LaPlant (Assistant VP for Research) about opportunities to present at the symposium jlaplant@valdosta.edu.
This Year's Symposium on Undergraduate Research
Previous Symposiums on Undergraduate Research
April 5 & 6, 2012 Program (pdf)

April 5 & 6, 2012 Abstracts (pdf

April 1 & 2, 2013 Program (pdf)

April 8, 9, & 10, 2014 Program (pdf)

April 8, 9, & 10, 2014 Abstracts (pdf)
April 13, 14, 15, & 16 2015 Program (pdf)
April 4, 5, 6 & 7 2016 Program (pdf)
Campus Address
The Graduate School
Converse Hall 3rd Floor
Mailing Address
1500 N. Patterson St.
Valdosta, GA 31698