Contact

General VSU Information


  229-333-5800

Office of Communications


  229-333-2163


  229-333-5983

Campus Address
Office of Communications Powell Hall West, Suite 1120
Mailing Address
1500 N. Patterson St.
Valdosta, GA 31698
Contact Us
Contact

General VSU Information


  229-333-5800

Office of Communications


  229-333-2163


  229-333-5983

Campus Address
Office of Communications Powell Hall West, Suite 1120
Mailing Address
1500 N. Patterson St.
Valdosta, GA 31698
Contact Us
March 12, 2014
14-82
Malynda Dorsey
Communications Specialist
Alumni Chapter of Atlanta Hosts Dinner and Fundraiser for Scholarship Fund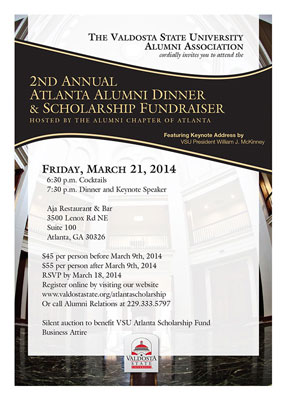 ATLANTA – Valdosta State University's Alumni Chapter of Atlanta will hold its Second Annual Atlanta Alumni Dinner and Scholarship Fundraiser at 7:30 p.m. on Friday, March 21 at Aja Restaurant and Bar in Atlanta. The dinner and keynote address, delivered by VSU President William J. McKinney, is preceded by a cocktail hour at 6:30 p.m.
When Lambert Bales, of Marietta, learned that he was a 2013-2014 recipient of the Valdosta State University Alumni Chapter of Atlanta Scholarship, he felt like a financial burden had been lifted.
"Receiving the scholarship money allowed me to focus less on paying for school and more on school itself," said Bales, a sophomore marketing major. "I had been looking for scholarships for a while and was about to give up looking. Then I received an email about the Alumni Chapter of Atlanta Scholarship."
In an effort to show its commitment to the recruitment, retention and success of VSU students, the VSU Alumni Chapter of Atlanta presents two scholarships to qualified students each year. The scholarship is open to both undergraduate and graduate students from all majors.
"It means so much to receive a scholarship from the alumni chapter," said Bales. "When the members of the chapter graduated, they could have been done with this school. However, this shows that they really care about the students who come after them."
Those interested in attending the alumni dinner and scholarship fundraiser can register for $55 online at www.valdostastate.org/atlantascholarship or call Alumni Relations at (229) 333-5797. The event will also include a silent auction to benefit the scholarship fund.
Contact

General VSU Information


  229-333-5800

Office of Communications


  229-333-2163


  229-333-5983

Campus Address
Office of Communications Powell Hall West, Suite 1120
Mailing Address
1500 N. Patterson St.
Valdosta, GA 31698
Contact Us