February 24, 2014
14-61
Erica Even, Student Assistant
The Spectator Receives Awards from Georgia College Press Association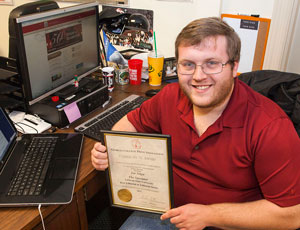 VALDOSTA – The Spectator, Valdosta State University's student newspaper, received four awards at the Georgia College Press Association (GCPA) 2013 Better Newspaper Contest competing against Georgia universities including Georgia Technical Institute, Emory University, Georgia State University and Georgia Southern University.
 
Individual awards were given to Joseph Adgie for second place for Best Editorial or Editorial Series and to cartoonist Garrison Muelhausen for third place for Best Entertainment Feature. Staff Awards included third place in advertising and second place for improvement.
 
Each award was given at the state level, giving Adgie and Muelhausen recognition as some of the best college and university journalists in the state by the GCPA and The Spectator as the second most improved student newspaper in the state.
 
"When I heard I had gotten the award, I kept thinking this is really cool," said Adgie, who is currently The Spectator's social media editor. "I never thought I could win an award across the state."
 
Since Adgie was 5 years old, he has dreamed of being an announcer for the NASCAR circuit, which he still considers a long-term goal.
 
After joining The Spectator in 2012, Adgie was assigned to cover the Student Government Association and has become interested in political writing. His plans for the future include moving to Washington D.C. to be a political reporter. Adgie has also been selected to represent Georgia as a fellow in the National Newspaper Association Foundation 2014 News Fellows program March 12-14, Washington, D.C.
 
Will Lewis, editor; Olivia McLean, managing editor; Alex Tostado, assistant sports editors; and Elan Waite, opinions editor also conducted a student-led session on common legal problems in the student press.
 
Additional staff members who attended the GCPS 2013 Better Newspaper Contest include John Preer, Web editor; Becka McAleer, multimedia editor; Eric Jackson, sports editor; and Aimee Napier, ad manager.
 
For more information on the GCPA awards or The Spectator, contact Dr. Pat Miller at pmiller@valdosta.edu or Dr. Ted Geltner at tageltner@valdosta.edu.