Contact

General VSU Information


  229-333-5800

Office of Communications


  229-333-2163


  229-333-2157


  229-333-5983

Campus Address
Office of Communications, 1120 Powell Hall
Mailing Address
1500 N. Patterson St.
Valdosta, GA 31698
Contact Us
Contact

General VSU Information


  229-333-5800

Office of Communications


  229-333-2163


  229-333-2157


  229-333-5983

Campus Address
Office of Communications, 1120 Powell Hall
Mailing Address
1500 N. Patterson St.
Valdosta, GA 31698
Contact Us
November 14, 2013
13-339
Erica Even, Student Assistant
Dr. Martha Leake: Faculty Excellence in Service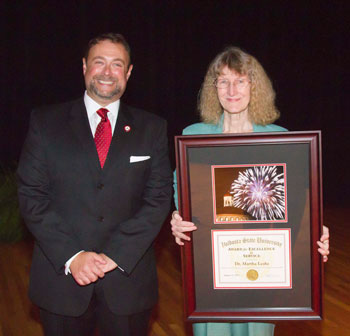 VALDOSTA – Valdosta State University's Dr. Martha Leake was honored with the 2013 Excellence in Service Award.
Leake is an astronomy professor and faculty advisor for the Valdosta State Astronomical Society.  She is in her 31st year of teaching at VSU.
When it comes to service, Leake is said to always excel. She has served on the faculty senate for six years and has more than 10 years of service on the student financial aid appeals committee. She has also served as part of VSU's promotion and tenure committee. She was also the Director of the Planetarium and Observatory for 13 years.
"I was thrilled to receive the award," Leake said. "I was honored to be nominated by my department head, Dr. Edward Chatelain and honored by those who wrote such nice reference letters for me."
Her research interests are on solid bodies of the solar system, the planets Mercury, Venus, Mars, the Moon, asteroids, and other moons of giant planets. In 1986 and 1987 Leake had a NASA Faculty Fellowship where she worked at the Jet Propulsion Lab in Pasadena, Calif. investigating the radar topography of Mercury.
Once VSU joined the Southeastern Association of Research in Astronomy Consortium, Leake mentored many VSU students in research projects through the Research Experience for Undergraduate (REU) students program, which has been established for 17 years.
Leake is a member of the American Association of University Women (AAUW) and is a past president of the AAUW Valdosta Branch.  She is also a member of the Georgia Academy of Science, the Planetary Society, the Astronomical Society, the Vadlosta community Kiwanis Club, and the American Association of University Professors (AAUP).
Outside academics Leake enjoys reading, hiking, photography, being with family, and caring for her cats.
The Faculty Excellence Awards recipients were recommended by a faculty committee that represents every college and division of VSU. The recipients were chosen from candidates who had already received top honors in their respective departments and colleges.
Contact Martha Leake at mleake@valdosta.edu.
Contact

General VSU Information


  229-333-5800

Office of Communications


  229-333-2163


  229-333-2157


  229-333-5983

Campus Address
Office of Communications, 1120 Powell Hall
Mailing Address
1500 N. Patterson St.
Valdosta, GA 31698
Contact Us