Contact

General VSU Information


  229-333-5800

Office of Communications


  229-333-2163


  229-333-2157


  229-333-5983

Campus Address
Office of Communications, 1120 Powell Hall
Mailing Address
1500 N. Patterson St.
Valdosta, GA 31698
Contact Us
Contact

General VSU Information


  229-333-5800

Office of Communications


  229-333-2163


  229-333-2157


  229-333-5983

Campus Address
Office of Communications, 1120 Powell Hall
Mailing Address
1500 N. Patterson St.
Valdosta, GA 31698
Contact Us
October 10, 2013
13-290
Erica Even, Student Assistant
Zeta Tau Alpha Paints the Campus Pink During Breast Cancer Awareness Month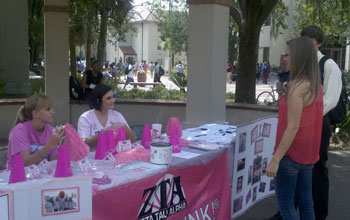 VALDOSTA — Valdosta State University's Zeta Tau Alpha (ZTA), a sorority on campus, celebrates Breast Cancer Awareness Month with fun activities throughout October and by painting the campus pink with ribbons, bows and yard signs.
Every Monday and Wednesday in October from 10 a.m. to 1 p.m. ZTA will host a philanthropy table where ZTA sisters will be collecting donations towards breast cancer research. Students, faculty and staff who visit the table will receive a pink ribbon
ZTA's largest annual event, Big Man on Campus (BMOC), will be held on Oct. 22 at 7 p.m. in Mathis Auditorium. Any student organization can enter a team for the competition.
The annual Pink Out Football Game will be held on Oct. 26 when VSU battles North Alabama. Wear pink to the game to support breast cancer awareness!
Do not forget to collect your pink Yoplait lids and give them to a ZTA sister or put them in donation boxes around campus for the Save Lids to Save Lives program.
Contact Ainsley Robinson, Zeta Tau Alpha president at airobinson@valdosta.edu or visit http://valdosta.zetataualpha.org/index.php?page_name=start for additional information.
Contact

General VSU Information


  229-333-5800

Office of Communications


  229-333-2163


  229-333-2157


  229-333-5983

Campus Address
Office of Communications, 1120 Powell Hall
Mailing Address
1500 N. Patterson St.
Valdosta, GA 31698
Contact Us