Contact

General VSU Information


  229-333-5800

Office of Communications


  229-333-2163


  229-333-2157


  229-333-5983

Campus Address
Office of Communications, 1120 Powell Hall
Mailing Address
1500 N. Patterson St.
Valdosta, GA 31698
Contact Us
Contact

General VSU Information


  229-333-5800

Office of Communications


  229-333-2163


  229-333-2157


  229-333-5983

Campus Address
Office of Communications, 1120 Powell Hall
Mailing Address
1500 N. Patterson St.
Valdosta, GA 31698
Contact Us
October 22, 2013
13-307
Jessica Pope
Communications Specialist
VSU Recognized for Best Online Special Education Degree Program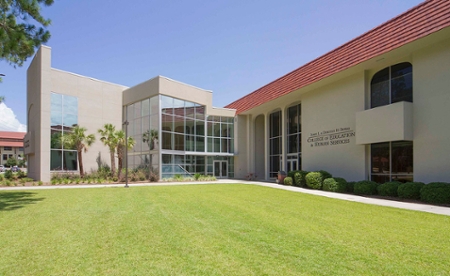 VALDOSTA — Valdosta State University's online special education program is listed among the 48 best in the nation.
Each year, BestOnlineColleges.org, a leading resource for online education, releases a series of lists recognizing the best online programs in the United States. Using data compiled and analyzed over the course of the 2012-2013 academic year, the website determined that VSU had one of the very best programs in the nation.
Only one other Georgia-based institution of higher education made the 2013 list and that was the University of Georgia. 
"... with the caliber of faculty we have working in the online special education program … I am not surprised by this recognition," said Dr. Brian Gerber, dean of the James H. and Dorothy L. Dewar College of Education and Human Services. "They do a fantastic job in the Department of Early Childhood and Special Education in this area."
Through Georgia ONmyLINE, VSU offers a Master of Arts in Teaching (M.A.T.) in the field of special education with initial certification in either special education adapted curriculum or special education general curriculum. The university also offers the M.A.T. in special education deaf and hard of hearing.   
"It is wonderful to receive recognition for our online programs," shared Dr. Kelly A. Heckaman, associate professor and coordinator of GoVIEW Online Special Education Programs, Department of Early Childhood and Special Education. "We know that the online special education general curriculum and special education adapted curriculum programs that I coordinate, as well as the online deaf education program that Dr. Nanci Scheetz coordinates, are rigorous and high quality programs that deserve to be named as 'the best.'"
VSU's Department of Early Childhood and Special Education is nationally recognized by the Council for Exceptional Children and the Association for Childhood Education International.
On the Web:
http://www.valdosta.edu/colleges/education/
http://bestonlinecolleges.org/
http://www.georgiaonmyline.org/
Contact

General VSU Information


  229-333-5800

Office of Communications


  229-333-2163


  229-333-2157


  229-333-5983

Campus Address
Office of Communications, 1120 Powell Hall
Mailing Address
1500 N. Patterson St.
Valdosta, GA 31698
Contact Us