Contact

General VSU Information


  229-333-5800

Office of Communications


  229-333-2163


  229-333-2157


  229-333-5983

Campus Address
Office of Communications, 1120 Powell Hall
Mailing Address
1500 N. Patterson St.
Valdosta, GA 31698
Contact Us
Contact

General VSU Information


  229-333-5800

Office of Communications


  229-333-2163


  229-333-2157


  229-333-5983

Campus Address
Office of Communications, 1120 Powell Hall
Mailing Address
1500 N. Patterson St.
Valdosta, GA 31698
Contact Us
Schmidt and Haugabrook Named to USG Executive Leadership Institute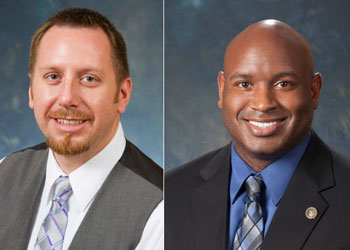 VALDOSTA – Michael Schmidt and Brian Haugabrook will represent Valdosta State University in the University System of Georgia's Executive Leadership Institute (ELI) program.
The comprehensive 120-hour program enhances the leadership skills of University System of Georgia faculty and administrators. Throughout the eight month program, participants are engaged in group learning sessions, 360 degree assessments, cross mentoring, ELI alumni development, reflection activities and job shadowing.


Schmidt arrived at Valdosta State in 2001 as an assistant professor of art. He has advanced through the academic ranks and was promoted to professor in 2011. He is currently serving as interim department head of the Department of Art.
The 2009 recipient of VSU's Faculty Award in Service, Schmidt has been featured in more than 150 juried and invitational exhibitions from Georgia to Korea.
"It is a great honor to be selected to participate in the University System of Georgia ELI program, and represent VSU and the Department of Art," said Schmidt. "This opportunity will allow me to explore leadership roles through the University System, connect with experienced administrators and faculty mentors, and challenge my understanding of what it means to play a larger role in the academic world, ultimately affecting students in a more meaningful way."
Haugabrook's work history with Valdosta State spans nine years. He has worked within Information Technology as programmer, systems analyst, director of the data warehouse and currently serves as interim chief information officer.
"I hope to learn more about my leadership abilities, and how I can improve myself and those around me," said Haugabrook. "Every day I strive to become better through meditation and self-reflection. The ELI program provides experts in leadership that will help me identify specific opportunities and strategies for continued growth."
For more information on ELI, visit the website http://www.usg.edu/leadership_excellence/executive_leadership_institute
Contact

General VSU Information


  229-333-5800

Office of Communications


  229-333-2163


  229-333-2157


  229-333-5983

Campus Address
Office of Communications, 1120 Powell Hall
Mailing Address
1500 N. Patterson St.
Valdosta, GA 31698
Contact Us