Contact

General VSU Information


  229-333-5800

Office of Communications


  229-333-2163


  229-333-2157


  229-333-5983

Campus Address
Office of Communications, 1120 Powell Hall
Mailing Address
1500 N. Patterson St.
Valdosta, GA 31698
Contact Us
Contact

General VSU Information


  229-333-5800

Office of Communications


  229-333-2163


  229-333-2157


  229-333-5983

Campus Address
Office of Communications, 1120 Powell Hall
Mailing Address
1500 N. Patterson St.
Valdosta, GA 31698
Contact Us
October 9, 2013
13-283
Malynda Dorsey
Communications Specialist
Kathy Sundin: Staff Excellence in Service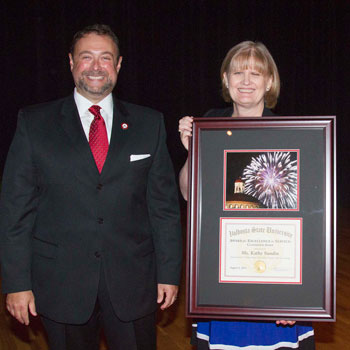 VALDOSTA – For almost seven years, Kathy Sundin has served Valdosta State University in various capacities.
"From December 2006 to June 2007, I served as a computer services specialist in the Division of Information Technology," said Sundin. "In July 2007, I became an instructional technology specialist."
Sundin served IT for more than six years before moving to VSU's Center for eLearning in March 2013. In August, she became the center's online communications coordinator.
In her current position, she develops and manages the Center for eLearning's online communications and social media resources, coordinates the VSU Excels program for faculty and staff professional development and assists with learning management system administration, among other tasks.
"Some the accomplishments that I am most proud of include designing and presenting the numerous face-to-face technology courses over the years, which allowed me to get to know so many VSU faculty and staff members; working with the Access Office to build accessibility into the courses I designed for the face-to-face environment and continue to design in the online environment; being a member of the website redesign team; and building the Center for eLearning and Online Programs websites," said Sundin. "I have also enjoyed assisting faculty, staff and students with troubleshooting technology issues -- both in Information Technology and the Center for eLearning."
Sundin is said to emerge as a leader in all situations while demonstrating professionalism, grace and openness.
Sundin's service to the university was rewarded when she received the Excellence in Service for Classified Staff Award at this year's convocation.
"This award means a great deal to me," said Sundin. "It indicates that fellow colleagues have recognized my work and contributions to the university."
The recipient of the Excellence in Service for Classified Staff Award is selected by a committee, comprise of representatives from each division and one representative from the Council on Staff Affairs. Nominations can be made by any full-time staff or faculty member. Criteria for the award include the demonstration of high standards of service to the university, exemplary performance, leadership through participation in staff functions and committees and the display of initiative, reliability and professional attitude.
For more information, visit http://ww2.valdosta.edu/cosa/StaffExcellenceAwards.shtml .
Contact

General VSU Information


  229-333-5800

Office of Communications


  229-333-2163


  229-333-2157


  229-333-5983

Campus Address
Office of Communications, 1120 Powell Hall
Mailing Address
1500 N. Patterson St.
Valdosta, GA 31698
Contact Us