Contact

General VSU Information


  229-333-5800

Office of Communications


  229-333-2163


  229-333-2157


  229-333-5983

Campus Address
Office of Communications, 1120 Powell Hall
Mailing Address
1500 N. Patterson St.
Valdosta, GA 31698
Contact Us
Contact

General VSU Information


  229-333-5800

Office of Communications


  229-333-2163


  229-333-2157


  229-333-5983

Campus Address
Office of Communications, 1120 Powell Hall
Mailing Address
1500 N. Patterson St.
Valdosta, GA 31698
Contact Us
September 5, 2013
13-246
Erica Even, Student Assistant
VSU's Jill Hohnecker Wins Residence Life Award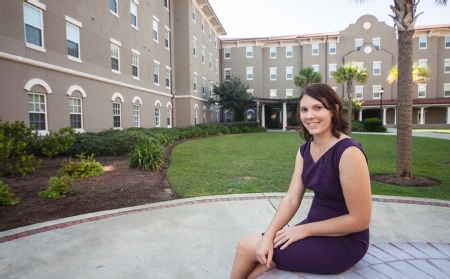 VALDOSTA — Jill Hohnecker, residential education graduate assistant at Valdosta State University, won the South Atlantic Affiliate of College and University Residence Halls (SAACURH) Of The Month (OTM) Award for the month of July, competing in the Residence Life Faculty/Staff category. She was nominated by Mark McNalley, assistant director for resident education.
Hohnecker competed against nominees from schools in Virginia, North Carolina, South Carolina, Florida, Tennessee, Alabama, Mississippi, Kentucky, and throughout Georgia.
"I was surprised when I found out I received my OTM from Mark," said Hohnecker. "It was really cool to be recognized for all the work that went into making resident assistant training a possibility."
In his nomination, McNalley said he had just started work at VSU and Hohnecker helped him with setting up microphones, grocery shopping, and cooking for 70 resident assistants, all without being asked.
"It is truly an honor for her nomination to have won going against all those other states," said McNalley. "Our staff at VSU works hard and it is nice from time to time to take a moment to recognize them and thank them for that."
Contact

General VSU Information


  229-333-5800

Office of Communications


  229-333-2163


  229-333-2157


  229-333-5983

Campus Address
Office of Communications, 1120 Powell Hall
Mailing Address
1500 N. Patterson St.
Valdosta, GA 31698
Contact Us