September 19, 2013
13-265
Jessica Pope
Communications Specialist
VSU's Jackson Rainer Publishes Grief Counseling, Therapy Book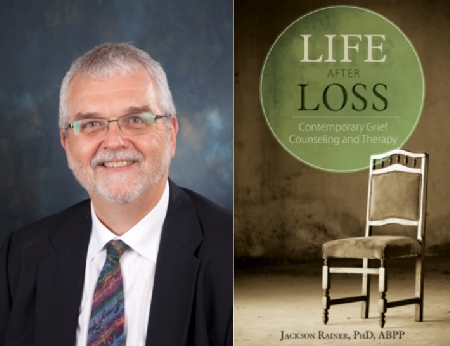 VALDOSTA — Dr. Jackson Patten Rainer recently published a book that offers tools, techniques, and compass points designed to help others with the experience of grief. Life After Loss: Contemporary Grief Counseling and Therapy is available for purchase from http://pesi.com/bookstore and www.amazon.com.
Rainer, who joined the Valdosta State University faculty as a professor of psychology and head of the Department of Psychology and Counseling in August of 2012, said, "I am very satisfied with the book. As a grief and bereavement researcher and teacher, this text goes beyond the well-known but outmoded stage theories of grief."
"It explores and illustrates new models of treatment and applies them to the lived experience of bereaved individuals and their families," he added. "I hope it will be a helpful resource to those living with the loss of a loved one and those professionals who want to help."
A Tifton native who prefers to be called Jack, Rainer holds a Bachelor of Music from Florida State University and a Master of Education in community counseling and a Doctor of Philosophy in counseling psychology from Georgia State University. He is a board certified clinical psychologist, licensed health service provider psychologist, and licensed applied psychologist.
In addition to his latest release, Rainer has co-authored two resource and reference works during the last couple of years, Rural Mental Health: Issues, Policies, and Best Practices and Isolated and Alone: Therapeutic Interventions for Loneliness. He serves on the editorial boards of seven psychology journals and is a regular contributor to various professional journals, as well as an experienced presenter. He won a bronze medal in the 2012 National Health Information Awards for his article "Neutralizing Stigma," which was published in the July/August 2011 issue of the bi-monthly Arthritis Self-Management magazine.
Rainer's chosen areas of research include grief and bereavement, end-of-life care, quality of life enhancement, rural mental health, and psychotherapy processes.
"His perceptive and insightful guides for journeying through the process of grief capture the reader in a rare combination of existential and applied interventions that exquisitely invite movement in all realms — affective, cognitive, behavioral, and spiritual," Dr. Frieda Farfour Brown, a nationally regarded psychologist specializing in crisis intervention, said of Rainer and his book. "This integrative approach invites the reader into a transformative place of healing essential for growth following loss."  
Contact Dr. Jackson P. Rainer at (229) 333-5986 or jprainer@valdosta.edu for more information. His office is located in the Psychology Building, Room 2104.
On the Web:
http://www.valdosta.edu/colleges/education/psychology-and-counseling/
http://www.valdosta.edu/about/news/releases/2013/01/vsus-jackson-rainer-wins-national-health-information-award--.php