Contact

General VSU Information


  229-333-5800

Office of Communications


  229-333-7177


  229-333-2163


  229-333-2157

Campus Address
Office of Communication, 1120 Powell Hall
Mailing Address
1500 N. Patterson St.
Valdosta, GA 31698
Contact Us
Contact

General VSU Information


  229-333-5800

Office of Communications


  229-333-7177


  229-333-2163


  229-333-2157

Campus Address
Office of Communication, 1120 Powell Hall
Mailing Address
1500 N. Patterson St.
Valdosta, GA 31698
Contact Us
August 23, 2013
13-237
Erica Even, Student Assistant
VSU Hosts 2013 Parents Weekend Sept. 20-21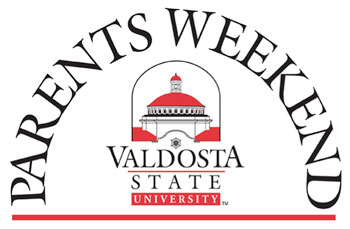 VALDOSTA – Valdosta State University will host its 2012 Parents Weekend on Sept. 20 and 21.
Check-in will be held from 6 to 7:30 p.m. Friday, followed by games in the Union Station, a dinner at Bas Bleu Brasserie with live entertainment from VSU students and professional singers, and then a showing of "Man of Steel" in the Student Union Theater.
Saturday's schedule begins with an academic expo in which faculty members and administrators will be available to answer questions and provide information to parents and students. A southern-style buffet will be served for lunch from 11:30 a.m. to 1 p.m. Art tours and planetarium shows will be available at different time intervals throughout the day.
From 2 to 4 p.m. Parents will have a chance to volunteer with their student by decorating Jeans 4 Justice and assembling care packages for The Haven, Valdosta's battered women's shelter. Jeans 4 Justice aims to raise awareness for the end to sexual violence.
The Blazer Walk will begin at 5:30 p.m. on Williams St. and end with parents and students reaching Bazemore-Hyder Stadium to cheer the Blazers on as they take on the Shorter Hawks. To receive a discounted ticket of $5, parents must go to http://www.vstateblazers.com and use "parent" as the coupon code. Student admission is free with valid student ID.
The VSU bookstore will be open from 1 to 7 p.m. for parents and students to get all of their school supplies and VSU paraphernalia.  Game night will resume Saturday from 6 to 10 p.m. and "Man of Steel" will be showing at 9 p.m. 
Registration for the weekend is $25 for each participant. The registration fee covers all scheduled events as well as lunch and a family photo button. The fee does not cover the Blazer football game or the dinner theater at Bas Bleu Brasserie. The last day to register is Friday, Sept. 13 at 3 p.m.
Visit  http://www.valdosta.edu/student/student-life/our-services/special-events/parents-weekened.
Contact

General VSU Information


  229-333-5800

Office of Communications


  229-333-7177


  229-333-2163


  229-333-2157

Campus Address
Office of Communication, 1120 Powell Hall
Mailing Address
1500 N. Patterson St.
Valdosta, GA 31698
Contact Us