August 15, 2013
13-229
Thressea Boyd
Director of Communications
University Launches IDEA Center to Create Enhanced Academic Community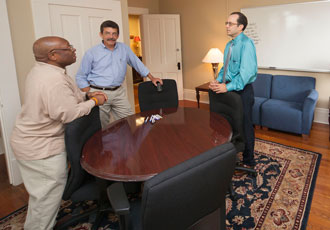 VALDOSTA--Finding an innovative approach to enhancing teaching, research, and service is just part of the overall mission of Valdosta State University's new IDEA Center (Innovative Designs for Enhancing the Academy).
Centrally located at 102 Georgia Ave., the IDEA Center provides a place for faculty and staff to gather as members of the academic community and share experiences to improve classroom instruction, develop leadership skills, examine research opportunities and explore different possibilities.
Plans for the IDEA Center were developed and implemented through the work of the Faculty Excellence Initiative, which included faculty, staff and administrators.
"Faculty have always wanted a place to gather," said Dr. Sheri Gravett, assistant vice president for Academic Affairs. "Members of  the Faculty Excellence Initiative worked hard to bring together the right circumstances to create the space."
In the past, faculty development activities have been offered through various programs and departments; however, it was becoming apparent that a more coordinated and centrally focused program was needed.
"The committee did amazing work, not just with their own ideas, but they used surveys as well as planned and organized focus groups with faculty, staff, administrators and graduate students," said Gravett.
The IDEA Center offers a place for faculty and staff to engage in both individual and group activities.
 In addition to the physical space, the IDEA Center provides funding for pedagogical innovation grants that target student engagement and performance in the classroom. Faculty members were invited to submit proposals for projects aimed at increasing the quality, effectiveness, and experience of college students. Teaching enhancement grants were also awarded to help faculty secure external funding opportunities.
Dr. Kathleen Lowney, professor of sociology, is serving as fellow-in-residence and has spent the past several months working with faculty members selected to receive the pedagogical grants.
"They are from so many disciplines, and to see how disciplines other than the social sciences cover similar concepts and theories and how they address pedagogical struggles has already made me more thoughtful about my teaching, about finding more examples to reach students from many disciplines," said Lowney, who received the 2013 Regents Teaching Excellence Award. "I am looking forward to becoming a better teacher from all the interaction I have as fellow-in-residence."
Workshops for faculty within all disciplines and years of experience will be offered at the IDEA Center.
In September a workshop titled "The Stories We Have to Tell--How They Shape Our Teaching" will focus on discussions of the best and worst teaching moments.
"When we [faculty] tell those stories, we construct how we feel about our profession, our students, our disciplines, so to listen, really listen, to those stories and to hear what they say about our pedagogical strategies can invigorate us," said Lowney.
Lowney, along with IDEA Center fellows Dr. Karla Hull, Department of Curriculum, Learning and Technology; Dr. Larry Hilgert, Department of Psychology and Counseling; and Dr. Peggy Moch, Department of Mathematics and Computer Science, will serve as faculty mentors and assist in facilitating leadership groups and teaching circles.
The IDEA Center will have regular operating hours so faculty will have a quiet and encouraging space for writing.
"We are going to have a 'come write with us' time every week for faculty that need a place on campus to focus on their writing," Lowney said. "If they need a place to go if the campus office is too busy or little ones are at home. Sometimes that synergy may help motivate."
A tenured member of the faculty, Lowney recognizes that teaching is an evolving process.
"All of us recognize that students today are different than when we were undergraduates--and different doesn't mean 'bad' but that availability of technology, the economic necessities of working, sometimes several jobs, are often pulling on our students in ways that many of us did not feel or did not feel to the same degree," said Lowney, who serves as editor of Teaching Sociology, a pedagogical journal. "So our learning about students can help us to be comfortable with creating assignments that both challenge our students intellectually but also plays to their technology strengths."
Lowney is excited to see the evolution and growth of the IDEA Center within the first year.
"Our two main goals overall the first year are certainly encouraging and strengthening teaching that can help with student retention and help faculty move through promotion and tenure," said Lowney.
Later this year a community component will be added to the IDEA Center mission.
"We believe that the IDEA Center can benefit not just VSU but our community. One way to think about VSU is that it is a community within the larger Valdosta-Lowndes community and our region," said Lowney. "We at VSU have both theoretical and practical knowledge to share with those communities, but they have much to share with us."
The community partnership will join agencies and businesses with ideas to seek faculty partners to conduct research and analyze data, as well as providing an opportunity for businesses to share professional knowledge with faculty, who can in turn share with students within the classroom.
"If the IDEA Center can be an incubator for ideas of how to strengthen communities and create lifelong learners who are civic-minded, then we have met one key part of our mission," said Lowney.
In addition to fostering improved student retention and faculty professional development, the center will serve as a valuable tool to recruit and retain new faculty.
"Certainly having the IDEA Center could be a factor in a new faculty member's decision to come to VSU," said Gravett. "Not only will the IDEA Center offer activities to support faculty in their roles as teachers and scholars, but it also provides opportunities to participate in or learn from innovative projects. Finally, it can also provide a social space that will enable them to meet faculty and staff from across the campus."
For more information, visit the IDEA Center website www.valdosta.edu/academics/idea-center/.