July 22, 2013
13-216
Malynda Dorsey
Communications Specialist
Associate Professor Explores Disease Management Strategies in Peanuts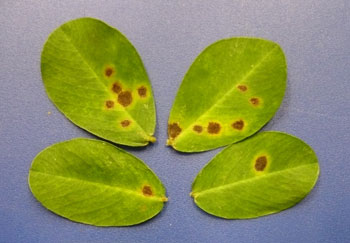 VALDOSTA – According to the National Peanut Board, peanuts are the 12th most valuable cash crop in the nation. In Georgia alone, peanuts account for more than 20 percent of the state's agricultural income and the peanut industry provides more than 50,000 jobs statewide. Last year, Georgia was said to produce approximately 50 percent of the nation's peanut supply.
Over the next several months, Dr. Emily Cantonwine, associate professor of biology at Valdosta State University, will join colleagues from the University of Georgia, University of Florida and Auburn University to explore multiple strategies for disease management and cost reduction of growing peanuts. This project is sponsored by the National Peanut Board.
"One of the goals of my research is to evaluate ways to help reduce the costs of growing peanuts in Georgia by limiting fungicide inputs," said Cantonwine.
Disease management accounts for at least 12 percent of annual peanut production costs, Cantonwine explained. Some farmers treat peanut crops with a fungicide early in the season to prevent soil-borne diseases such as white mold disease and cylindrocladium black rot (CBR). Another application of fungicide is applied to crops 10-12 days later to protect against foliar diseases like early or late leaf spot disease.
"Because the fungicide that is applied is systemic, there is a possibility that the early application use for soil-borne protection could also provide foliar disease protection," said Cantonwine. "If it does, this could mean fewer fungicide inputs."
Reduction in fungicide use could save farmers up to $15 per acre.
Cantonwine will use a bioassay, which determines the strength and biological activity of substances, to test the effectiveness of the early season fungicide application. This process takes 30 days to complete and then has to be repeated.
Cantonwine's research is funded by an $8,000 subaward from the University of Georgia. The funds also cover a research technician position.
Cantonwine teaches several courses in biology at VSU that range from mycology and plant pathology to biology of horticulture and organic agriculture. She specializes in the study of fungal diseases in peanuts and methods for control.
About Peanut Diseases
Soil-borne diseases in the peanut are caused by fungal pathogens that infect one or more parts of the plant at or under the soil surface, according to the U.S. Department of Agriculture. These diseases are usually more complicated to manage than foliar diseases, which attack above ground tissues.
Varying weather patterns contribute to the spread of fungal diseases in peanuts. If farmers do not properly manage fungal diseases, they stand the risk of losing more than 50 percent of their crops.
For more information about peanut production, visit the National Peanut Board website at www.nationalpeanutboard.org .