February 28, 2013
13-31
Jessica Pope
Communications Specialist
VSU's Mario Rivera of Honduras Says Music Changed His Life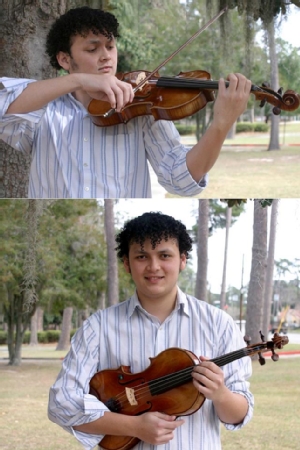 Music can change the world because it can change people. — Bono, U2 
VALDOSTA — Born in one of the poorest nations in the Western Hemisphere, Mario Rivera never imagined that a bowed string instrument and a never-give-up, never-quit attitude would allow him to experience the world in ways many people only imagine.
Music made his dreams come true.
Music changed his life.
The second oldest of four boys, Rivera was 13 years old when his family discovered that he had a gift for music. He was playing around on an uncle's old keyboard when they noticed that, although he could not read music, he could play by ear.
"It was an accident but a great accident," shared the 23-year-old Valdosta State University international student from Honduras who plays the viola.
Rivera's parents enrolled him in the Victoriano Lopez School of Music. He attended traditional high school classes from 7 a.m. to 1 p.m. and music classes from 2 p.m. to 7 p.m., Monday through Friday. During the evenings, he completed his homework assignments and practiced his music, often staying up till midnight or 1 a.m., rising again at 6 a.m. to do it all over again. He spent 10 to 12 hours a day on weekends honing his musical skills.
"I was very tired and exhausted all the time," said Rivera, who maintained this non-stop schedule for five years with support from his friends and family. "The first year was very hard [because the music] school was very strict. I wanted to give up … to quit."
However, Rivera's mother convinced him to stick it out through the end of the year. She told him that he owed it to himself to finish what he had started, he said. By the second year, everything had changed.
"Something clicked," he added. "After that, I loved it so deeply. I started practicing more. I decided this is what I want to do with my life; this is what I want for me. It was what I really wanted to do."
When asked how he came to choose the viola, Rivera said the instructors presented each instrument to the students and asked them to write down their three favorites, in order of importance, most to least. He wrote, violin, viola, clarinet. His hands were too large for the violin, his first choice, so he was given the viola.
"They did a good job picking the viola for me," he said, adding that he now plays the violin as well from time to time. Two years after he first entered the music school, he was playing with the Central America Youth Orchestra. A year after that, he won the first of two back-to-back gold medals in the music school's annual Juan Tutto Diffent Concerto Competition. He said he was the first viola player to win that competition.
Rivera graduated from high school in 2007 and auditioned for and was accepted by the world-class YOA Orchestra of the Americas the following year. For two years, he studied, traveled, and performed in the most prestigious concert halls of Europe and the Americas with this group of gifted young musicians, ranging in age from 18 to 30 and representing more than 20 countries in the Western Hemisphere. He has played in New York City's Carnegie Hall and the Vatican's Papal Basilica of Saint Peter.
"That experience helped me grow as a person and musician," he shared. "Experience is something no one can take from you. Even if you have nothing in your pocket, you can still gain experience."
Rivera noted that he often thought about attending college when he was performing with the orchestra. However, his English was not good enough at the time for him to take advantage of offers coming to him from United States-based colleges. He waited, and after two years of traveling and sharing his talent with the world, he decided to attend Valdosta State University. His reasoning was simple — VSU ensured him that he would receive the language instruction he so desperately desired and needed to be a successful student in the United States.
Rivera arrived at VSU in the fall of 2011, and he spent that first semester studying nothing but the English language at the VSU English Language Institute. He began taking traditional college courses in the spring of 2012, working toward a Bachelor of Music.  
A sophomore music performance major, Rivera said that he practiced his music 10 hours a day when he first arrived at VSU. He was too excited about the opportunity he had been given to study music in the United States and did not want to let himself or his instructors down. Now that he has settled in, he practices four to eight hours a day, depending on his class schedule. He won the Valdosta Symphony Orchestra's annual Concerto Competition in January.
"I was very honored to win the competition," he said, adding that, as of Feb. 4, he has only been playing the viola for 10 years. "I am the first string player that has won the VSO Concerto Competition."
Rivera's younger brother, 17, is following in his footsteps, except he plays the oboe. This is his final year of school in Honduras, and he hopes to study music in college in the United States as well, maybe even at VSU.
"He is way more talented than I am," said the proud older brother. "Just wait; you'll see him one day."
Rivera admires his brother's talent and his dedication; he said he knows firsthand just how difficult the workload can be to manage. He noted that his brother looks up to him — and has told him so — because he laid the groundwork for him to pursue a career in music and make his dreams a reality.
After Valdosta State, Rivera hopes to pursue a master's degree, maybe in the United States, maybe in Europe, the birthplace of classical music, his favorite to play on the viola. He also dreams of playing in a professional orchestra.
"It is important to dream and have very big goals," he said. "I may not get them, but I will [at least] get close" — and that is further than he would have gotten had he been too afraid to dream at all.
Rivera credits one of his first music teachers in Honduras, Mario Funes, with giving him the courage to push beyond his perceived limits, to always strive for more, to never forget that there is always something new to experience, something new to learn.
With that in mind, Rivera enjoys testing the limits of his viola. Classical may be what he does and what he loves most, but he also looks for opportunities to jam with jazz or blues groups. Playing the viola as if it were a tiny guitar, he said that he also has a passion for Latin music. 
"You have to be open-minded," he said. "If you have an instrument that makes music, then you can do anything with it that you choose to do. It's fun. I love to perform."
UPCOMING EVENTS:
• Mario Rivera will perform at 7:30 p.m. on Saturday, Feb. 9, in VSU's Whitehead Auditorium during the Valdosta Symphony Orchestra Honors Recital. He will play Béla Bartók's Viola Concerto Sz. 120, BB 128. Also performing will be Nancy Davis (marimba), Nicole Kessler (flute), Trent Harper (bass), Mariana Krewer (violin), and Garry Morales Urbina (oboe), all top performers in the VSO's Concerto Competition.
• Mario Rivera will perform Béla Bartók's Viola Concerto Sz. 120, BB 128 with the Valdosta Symphony Orchestra at 10 a.m. on Friday, April 26, in VSU's Whitehead Auditorium. This performance is part of the VSO's Youth Concert Series.